Contains
Vitamin A
Ginkgo Biloba
Guarana
Vegan Friendly
Featured video
Active: Focus CBD Oil Lime Flavour Drops 30ml
Focus CBD Drops have been developed to help you keep your edge during a workout, studying, or any time that you need 100% focus. Our lead ingredient, Vitamin A (50% NRV per dose), ensures that your vision stays clear and supports your metabolism in the midst of your task.
Regular price

Sale price

£19.99 GBP

Unit price

per
Fancy a different active stage?
Active Ingredients & Benefits
FAQs
Vitamin A

Vitamin A is the principal ingredient in our Focus CBD Drops for several essential reasons. This vitamin plays an important role in supporting your body's ability to metabolise iron, which subsequently helps to maintain connective tissue and normal muscle function. Crucially, Vitamin A also helps to support normal vision, meaning that your sight is less likely to falter when you need to concentrate most.

Due to its role in iron metabolism, Vitamin A also provides a great deal of other health benefits. This includes the maintenance of normal skin and the immune system; both being areas that can suffer from long periods of stress or exertion. Iron also plays an important part in cell specialisation, meaning your body can operate more efficiently.

Ginkgo Biloba

Ginkgo Biloba is an organic ingredient derived from the tree of the same name. Ginkgo Biloba is rich in natural flavonoids and terpenes which contain an abundance of antioxidants, as well as relaxing flavours and aromas. Also known as the Maidenhair Tree, Ginkgo Biloba is a herbal ingredient popular in China.

Guarana

We've included Guarana because of its natural properties that help to support the purpose of our CBD Focus Drops. The Guarana fruit is rich in antioxidants, a critical part of any healthy, balanced lifestyle.

Extreme physical activity and exertion can increase the level of free radicals in your body. These potentially harmful molecules can cause cell damage over time, however a healthy level of antioxidants can help to neutralise high levels of free radicals.

Guarana is also an organic source of caffeine. The Guarana fruit itself is native to South America, specifically the Amazon rainforest, where native tribes have used it for centuries.

| | | |
| --- | --- | --- |
| Typical Values | Per 1ml Dose | %NRV |
| Vitamin A | 0.4mg | 50% |
| Caffeine | 2mg | - |
| Guarana | 1mg | - |
| Ginkgo Biloba | 0.1mg | - |

*Nutritional Reference Value

Active: Focus CBD Drops Ingredients:

Coconut Oil (MCT), Propylene Glycol, Natural Lime Flavours, CBD, Caffeine, Guarana, Vitamin A, Ginkgo Biloba.

Colorado-sourced CBD:

Our natural hemp extract is grown in Colorado, a state known for its expertise and history of hemp cultivation. The final hemp harvest then has the CBD extracted carefully, resulting in the pure CBD extract we use in our Active: CBD Oils.

Independent Lab Testing:

Once our CBD extract is ready, we send each and every batch to be independently tested in a laboratory. This means two things: we can meticulously check if each batch of CBD meets our high standards, and that you can view the results of each lab test for extra peace of mind.

All of our Active products come with a CBD batch number on their packaging. You can enter this number on our CBD Lab Reports page to view the corresponding lab report and see exactly what's in your product.
We recommend 70mg CBD per day
CBD strength guide
CBD strength refers to the amount of CBD in each product. Higher strengths mean improved value per milligram of CBD and last longer, as less oil or spray is needed to get the right dose.
How Long Each Oil Lasts Based on a 70mg Daily Dose:


Double the strength double the servings!
What CBD Dose Should I take?
We recommend 70mg of CBD daily. This is based on user research where we found that users who consistently took 70mg CBD were amongst the most satisfied customers.
How to Achieve a 70mg Daily Dose Based on CBD Strength:
Pipette 1000mg 30ml bottle =
Take 2 full pipettes (66.4mg CBD)
*70mg CBD exact or near, all calculations are approximate.
CBD usage guide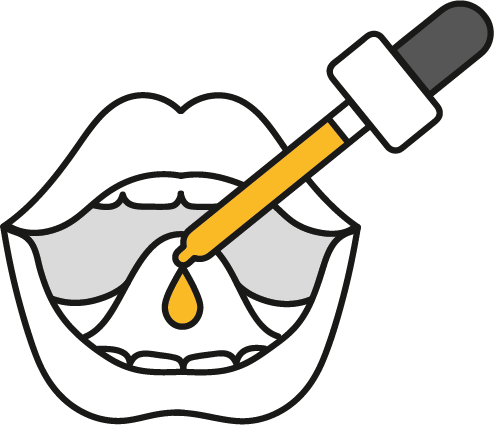 1

Shake the bottle well before opening

2

Drop the CBD oil beneath tongue

3

Hold the CBD oil under your tongue for at least 90 seconds or until fully absorbed
Buy Now
Active: Focus CBD Oil FAQs
When should I use CBD Relax drops?

When used as part of an exercise routine, our Focus CBD Drops are intended to be used during or throughout your workout. Our active ingredients have been chosen to help you to stay alert and focused even during the most arduous workout. Our Focus Drops can also be used outside of exercise as part of an everyday well-being routine.

Is the flavour of hemp stronger in higher CBD strengths?

We pay close attention to the flavour of all our CBD oils, so no matter what strength you choose, you'll still get that distinct Lime flavour. We do this by increasing the amount of flavouring we use, which effectively masks the earthy hemp taste of higher CBD strengths.
Looking for Guidance on CBD?