Contains
Pure CBD
Vitamin B12
Caffeine
Ashwagandha
Vegan Friendly
Featured video
Active: Boost CBD Oil Orange Flavour Drops 30ml
Boost CBD Drops have been engineered to jump-start your workout or to give you an extra push before a busy day at work or home. These CBD drops are rich in Vitamin B12 (80% NRV per dose), which helps to effectively reduce tiredness and fatigue.
Regular price

Sale price

£19.99 GBP

Unit price

per
Fancy a different active stage?
Active Ingredients & Benefits
FAQs
Vitamin B12

Vitamin B12, otherwise known as cobalamin, is an essential way to support your energy-yielding metabolism, which effectively reduces tiredness and fatigue during physical activity. This vitamin also makes our CBD Boost Drops an ideal choice for use before a long day so you can stay alert for longer.

B12 also plays a crucial role in homocysteine metabolism. Homocysteine is an amino acid present in blood that is produced when the body breaks down proteins such as meat. High homocysteine levels can be indicative of a Vitamin B12 deficiency, and can cause damage to blood vessels.Metabolising homocysteine efficiently is one way to keep their levels down.

Vitamin B12 also plays other roles in the human body that are an important part of leading a healthy, balanced diet. This includes contributing to normal psychological function, red blood cell formation and healthy cell division.

Ashwagandha

Ashwagandha is a botanical ingredient derived from a small shrub native to India. The human body can process extracts from its roots to provide a variety of potential benefits. One example is Ashwagandha's potential to reduce cortisol levels. Cortisol is a hormone released in response to stress or low blood sugar. High levels of cortisol can lead to high blood sugar and excess storage of fat in the abdomen.

| | | |
| --- | --- | --- |
| Typical Values | Per Dose | %NRV |
| Vitamin B12 | 2mcg | 80% |
| Caffeine | 2mg | - |
| Ashwagandha | 0.15mg | - |
| CoQ10 | 10mg | - |

*Nutrient Reference Value

Active: Boost CBD Drops Ingredients:

Coconut Oil (MCT), Propylene Glycol, Natural Orange Flavours, CBD, CoQ10, Caffeine, Ashwagandha, Vitamin B12.

Colorado-sourced CBD:

Our natural hemp extract is grown in Colorado, a state known for its expertise and history of hemp cultivation. The final hemp harvest then has the CBD extracted carefully, resulting in the pure CBD extract we use in our Active: CBD Oils.

Independent Lab Testing:

Once our CBD extract is ready, we send each and every batch to be independently tested in a laboratory. This means two things: we can meticulously check if each batch of CBD meets our high standards, and that you can view the results of each lab test for extra peace of mind.

All of our Active products come with a CBD batch number on their packaging. You can enter this number on our CBD Lab Reports page to view the corresponding lab report and see exactly what's in your product.
We recommend 70mg CBD per day
CBD strength guide
CBD strength refers to the amount of CBD in each product. Higher strengths mean improved value per milligram of CBD and last longer, as less oil or spray is needed to get the right dose.
How Long Each Oil Lasts Based on a 70mg Daily Dose:


Double the strength double the servings!
What CBD Dose Should I take?
We recommend 70mg of CBD daily. This is based on user research where we found that users who consistently took 70mg CBD were amongst the most satisfied customers.
How to Achieve a 70mg Daily Dose Based on CBD Strength:
Pipette 1000mg 30ml bottle =
Take 2 full pipettes (66.4mg CBD)
*70mg CBD exact or near, all calculations are approximate.
CBD usage guide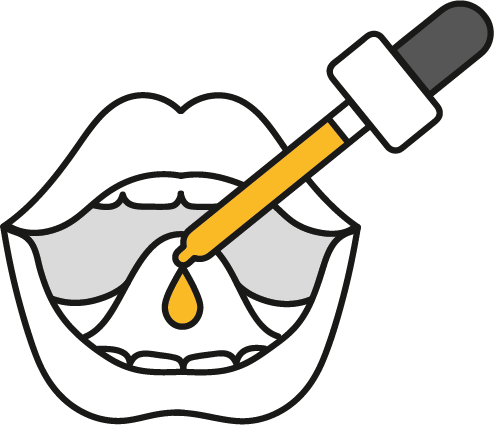 1

Shake the bottle well before opening

2

Drop the CBD oil beneath tongue

3

Hold the CBD oil under your tongue for at least 90 seconds or until fully absorbed
Buy Now
Active: Boost CBD Oil FAQs
When should I use CBD Boost drops?

As part of a workout, our CBD Boost Drops are designed to be used around 30 minutes before exercise. This allows our Boost Drops work as intended, providing you with a high-octane power surge directly before you start your workout.

Is the flavour of hemp stronger in higher CBD strengths?

We guarantee that even higher strength CBD oils will still taste like the intended flavour. As CBD concentration increases, so does the natural taste of hemp. However, for higher CBD strengths, we always increase the amount of flavouring so that your Boost Drops can retain their invigorating Orange flavour.
Looking for Guidance on CBD?