Contains
Pure CBD
Lemon Balm
Magnesium
5-HTP (Griffonia Extract)
Vegan Friendly
Featured video
Active: Relax CBD Oil Cherry Flavour Drops 30ml
Relax CBD Drops are formulated to help you rest and relax after a workout or simply after a long day when you need to unwind. Lemon Balm is our lead ingredient, an antioxidant known to help the body achieve a more fulfilling, peaceful rest.
Regular price

Sale price

£19.99 GBP

Unit price

per
Fancy a different active stage?
Active Ingredients & Benefits
FAQs
Lemon Balm

The lead ingredient in our Relax Drops, Lemon Balm helps to contribute to deeper, calmer rest. Lemon Balm is also known to act as an antioxidant, an important element of any exercise routine or healthy lifestyle. Antioxidants are present in organic foods and help control the levels of free radicals in your body. Free radicals are compounds formed in the human body that can help fight infection, but a high level can lead to cell damage. Antioxidants help to remove excess free radicals to the benefit of your body.

Lemon Balm itself is not derived from the fruit or Lemon tree. It is in fact a herbaceous plant that grows all around the world, but mainly in South America and the Mediterranean. Historically, Lemon Balm leaves have been used as a herb and flavouring for teas, but has more recently started being used for aromatherapy and its ability to contribute to good rest.

Magnesium

Magnesium is critically important to cell function and supports healthy brain performance as well as muscle function and protein formation. One of the most abundant minerals in the human body, Magnesium is critical to cell function and can be most commonly found in muscle, bone and other soft tissues.

Magnesium also plays an important role in converting food into energy, so you can wake from your rest ready for the next challenge. Better yet, Magnesium can help prevent excessive tiredness as it helps move essential sugars into your muscles while removing excess lactate, a common cause of fatigue during exercise.

5-HTP from Griffonia seed extract

5-HTP, or 5-Hydroxytryptophan, is an amino acid that is naturally processed by the human body. Studies have shown that 5-HTP is used by the body to produce more serotonin, an important chemical messenger in the brain. Low serotonin levels have been linked with various health problems, including poor sleep and weight gain.

5-HTP is a naturally occurring substance and is extracted from a leafy shrub known as Griffonia Simplicifolia, a plant native to Africa. Unlike other nutrients, 5-HTP is not found in any foods, so can only be added to your intake via other methods, such as our Relax: CBD Drops.

| | | |
| --- | --- | --- |
| Typical Values | Per Dose | %NRV* |
| Lemon Balm | 1.5g | - |
| Magnesium | 0.1mg | 0.03% |
| 5-HTP | 0.05mg | - |

*Nutrient Reference Value

Active: Relax CBD Drops Ingredients

Coconut Oil (MCT), Cherry Flavour in Propylene Glycol, CBD, Lemon Balm, Magnesium, 5-Hydroxytryptophan.

Colorado-sourced CBD:

Our natural hemp extract is grown in Colorado, a state known for its expertise and history of hemp cultivation. The final hemp harvest then has the CBD extracted carefully, resulting in the pure CBD extract we use in our Active: CBD Oils.

Independent Lab Testing:

Once our CBD extract is ready, we send each and every batch to be independently tested in a laboratory. This means two things: we can meticulously check if each batch of CBD meets our high standards, and that you can view the results of each lab test for extra peace of mind.

All of our Active products come with a CBD batch number on their packaging. You can enter this number on our CBD Lab Reports page to view the corresponding lab report and see exactly what's in your product.
We recommend 70mg CBD per day
CBD strength guide
CBD strength refers to the amount of CBD in each product. Higher strengths mean improved value per milligram of CBD and last longer, as less oil or spray is needed to get the right dose.
How Long Each Oil Lasts Based on a 70mg Daily Dose:


Double the strength double the servings!
What CBD Dose Should I take?
We recommend 70mg of CBD daily. This is based on user research where we found that users who consistently took 70mg CBD were amongst the most satisfied customers.
How to Achieve a 70mg Daily Dose Based on CBD Strength:
Pipette 1000mg 30ml bottle =
Take 2 full pipettes (66.4mg CBD)
*70mg CBD exact or near, all calculations are approximate.
CBD usage guide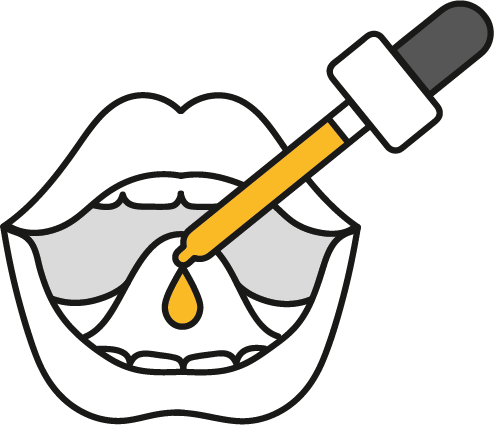 1

Shake the bottle well before opening

2

Drop the CBD oil beneath tongue

3

Hold the CBD oil under your tongue for at least 90 seconds or until fully absorbed
Buy Now
Active: Relax CBD Oil FAQs
When should I use CBD Relax drops?

If being taken as part of your fitness or workout regime, our CBD Relax Drops should be taken in the evening after exercise or just before bed. Our Relax Drops are formulated to promote improved rest and to help you unwind after workouts. Our Relax Drops are also suitable for use outside of a fitness routine, in which case we recommend taking before bed.

Is the flavour of hemp stronger in higher CBD strengths?

While stronger CBD strengths naturally taste more like hemp, we adjust our flavour levels to make sure that it never overpowers the original flavour. For our Relax Drops, our rich and rounded Cherry flavour will be just as delicious no matter what CBD strength you choose.
Looking for Guidance on CBD?