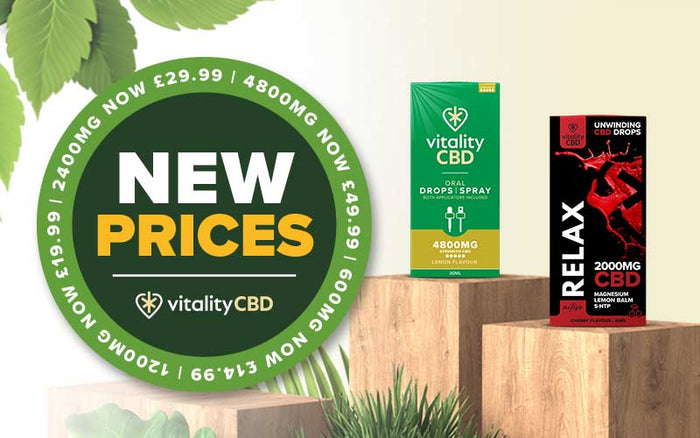 Vitality CBD Announces New Prices
Vitality CBD is delighted to announce reduced prices for a wide selection of products from our popular CBD Well-Being, CBD Active, and CBD E-liquid ranges. This is one of a succession of price improvements over the recent months aiming to make high-quality CBD products accessible for everybody interested in CBD.
Phillip Glyn, Commercial Director at Vitality CBD was pleased to announce:
"Demand for the highest quality and credible CBD continues to rise in the UK. One of the only remaining barriers to entry for mass market adoption of CBD is the traditionally high & premium prices found on the high street."
"Now that Vitality CBD is distributed by over 5,000 stockists, we have the economies of scale to further reduce our prices to make CBD genuinely affordable for all."
"With our 3rd price drop in 18 months, we're delighted to pass these reductions straight onto our stockists and end consumers. We now believe Vitality CBD has the unique combination of being both the most trusted and most price-competitive CBD product range in the UK, which will rapidly accelerate the growth of the brand over the next 12 months." 
Now the Best Value CBD on the Market
Thanks to these new and improved prices, we're now proud providers of premium quality CBD at industry best prices. Based on our newly priced 4800mg CBD oil, you can now take CBD for just 67p per day while following our recommended maximum daily dosage of 70mg.
With our new prices in mind, now's an ideal time to try our higher strength CBD oils. Due to the higher concentration of CBD per millilitre of oil, our 4800mg and 2400mg CBD oils offer even more impressive value per dose.
Which Vitality CBD products are being reduced in price?
The most significant reduction in prices will be in our ever-popular CBD Well-being range. This applies to our CBD Drops, CBD Sprays, and Dual Applicator CBD Drops & Sprays, across all flavours and strengths. No matter how customers prefer to take our CBD oils, the price of a daily dose is now even better.
| | |
| --- | --- |
| CBD Oil (30ml) | Price |
| 600mg | £14.99 |
| 1200mg | £19.99 |
| 2400mg  | £29.99 |
| 4800mg | £49.99 |
The products in our Active range are also seeing a significant price improvement. For our Active range, we designed our CBD oils with the help of fitness experts for every stage of your workout. The versatile collection of Active CBD oils are now more accessible than ever, so if you're interested in seeing how CBD could be integrated into your fitness regime, there has never been a better time.
Active CBD Oils
Boost, Focus, Recover, Relax (30ml)

Price

500mg

£19.99

1000mg

£24.99

2000mg 

£34.99
For those that vape CBD, you'll be pleased to know that our broad spectrum e-liquids are also having their prices improved. This applies to all flavours and strengths, so if you want to take advantage of the increased bioavailability of CBD e-liquids, now is the perfect time to give them a try.
| | |
| --- | --- |
| Broad Spectrum E-liquids | Price |
| 300mg | £9.99 |
| 600mg | £14.99 |
| 1200mg | £19.99 |