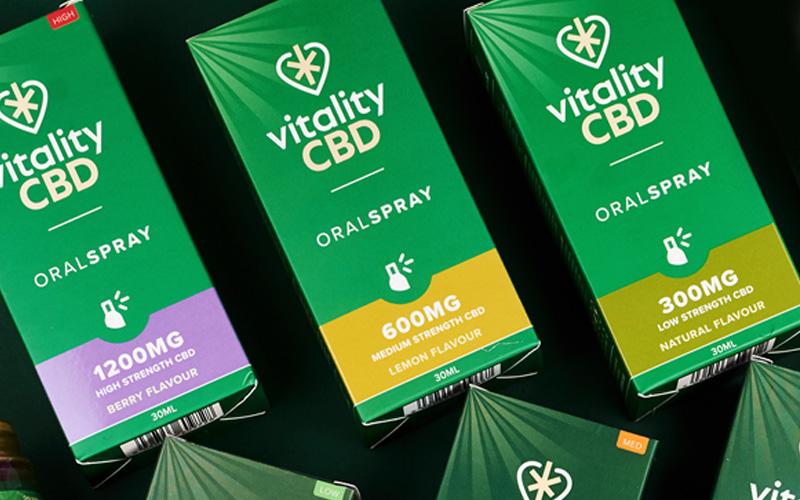 What's the best CBD oil to buy? Find out with Vitality CBD
Finding the best CBD option for you can be difficult at the best of times, and as we introduce more and more products we recognise it's not getting easier. That's why we wanted to guide you through our CBD oils, so you can find the best product for you.
Of course, there's no such thing as the perfect CBD product for someone, especially when many users actually take two or three different CBD products throughout the day! Still, take guide as a good first step for matching your needs to the right CBD oil. First up, let's go over the CBD basics.
What is CBD?
CBD, or cannabidiol, is one of over one hundred different cannabinoids found in the hemp plant. That's why all of our CBD-based products are natural, with a good safety profile. These cannabinoids are responsible for many of the recognised properties of hemp, and are currently being studied by large portions of the scientific community.
The most famous is THC, which is responsible for the high and negative side-effects linked with cannabis use. That's why all Vitality CBD products come with a guarantee of 0% THC, and are harvested from hemp (a version of the cannabis plant bred to be low in THC and high in CBD). Unlike THC, CBD isn't psychotropic, and carries none of the associated risks, meaning it's generally safe to buy CBD. 
What are CBD oils?
CBD oils are, simply put, cannabidiol mixed with a carrier oil (sometimes the names do make sense!). These are generally the most common way of taking CBD, partially because they're the most traditional, and partially because of their versatility.
CBD oils are easy to take on the go since they're portable, they're quick to dose, and they enable you to take CBD quickly whenever necessary. Better than that, the carrier oil also enables us to blend in our great natural flavours to make every dose a delicious one. Find the best CBD oil for you below.
Core CBD oils
These CBD oils were the starting point for our entire range of CBD products. They represent some of the best CBD oils available on the market today, made from simple, high-quality formulations. Find out which one's best for you below!
CBD Oral Spray
The CBD Oral Spray is our cornerstone CBD oil, thanks to its innovative spray head, and its high quality Pure CBD. If you're looking for a good entry point to CBD, then look no further.
Flavour(s): Natural, Berry, Lemon
Strengths: 300mg, 600mg, 1200mg
Benefits:
Great, precise sprayhead for CBD on the go
The MCT (coconut) oil masks any earthy hemp taste)
CBD Oral Drops
Our most traditional CBD oil is our CBD Oral Drops, and it's still a fan favourite. With three tasty flavours, three strengths, and a high quality CBD extract, this is a fantastic first option.
Flavour(s): Natural, Berry, Lemon
Strengths: 300mg, 600mg, 1200mg
Benefits:
The pipette makes checking your CBD dose easy
Uses hemp seed oil for the full CBD experience
CBD Oral Drops / Spray
All of these CBD oils are great, but our CBD Oral Drops / Spray is probably our best CBD oil—that's what we think in the office anyway. At our highest strength, and with the option to switch between spray and pipette, this is a premium product at a great price-mark.
Flavour(s): Natural, Berry, Lemon
Strengths: 2400mg, 4800mg
Benefits:
No need to choose—spray and pipette in one box
High strength = small doses = long-lasting. Simple!
Find the best CBD fitness product for you with our Active CBD range
You may have seen athletes and personal trainers using CBD oils on Instagram or in the gym, but where it all started with us was our CBD Muscle Balm. We're always engaging with our users, and one of the early pieces of feedback we received was that our CBD balm was being used frequently alongside exercise. 
In fact, a high proportion of the positive feedback we received early on was directed at our balm. By engaging with those fitness professionals (one of whom became a direct consultant, Ben Noy) we recognised that what elevated our CBD Muscle Balm, was that it was a strong balm without the CBD. CBD is a great collaborator—so we decided to experiment with more active ingredients.
CBD fitness and the right ingredients
The benefits of speaking to a range of users, from peak-fitness athletes, to everyday joggers, enabled us to create a range that hit the needs of everyone. What we found was that users wanted a different effect from their existing supplements depending on when they took them—obvious if you think about it really. 
That's where the idea for our fitness timeline came in. Before designing each of our five core Active products we figured out the usual routine of a regular exerciser, and came out with the diagram below. Then, we named our four CBD oils after each of those four main steps, with our CBD Muscle Rub as key essential support. 
Our full CBD fitness range
So, with our fitness timeline in place, we then set about choosing key, well-respected industry ingredients to make each of these products standalone as great fitness supplements. Discover why every part of our Active range is so essential below. 
CBD Boost Drops
The first step in your fitness routine is covered by our CBD Boost Drops. As the name suggests, each of the feature ingredients we've chosen has one purpose in mind: a big boost each morning!
Flavour: Orange
Strengths: 500mg, 1000mg, 2000mg
Benefits:
Works great taken as a pre-workout kickstart
Includes vitamin B12, known for stimulating energy-yielding metabolism and reducing tiredness and fatigue
CBD Focus Drops
Step two in our Active routine comes with our CBD Focus Drops. Great for a workout, or if you just want to knuckle down and get some work done. 
Flavour: Lime
Strengths: 500mg, 1000mg, 2000mg
Benefits:
Perfect as a mid-workout support (and for mental activities too!)
Includes vitamin A, renowned for maintaining your iron metabolism
CBD Recover Drops
Been at the gym all day? Then these CBD Recover Drops are the one for you. With all natural ingredients, this is a great way to support your body. 
Flavour: Lemon
Strengths: 500mg, 1000mg, 2000mg
Benefits:
Supports the body when taken immediately after a workout
Includes vitamin D3 to maintain muscle, bone and immune system function 
CBD Relax Drops
The final step in our Active routine is all about cooling off. Our CBD Relax Drops will help you unwind after a taxing day; either in the gym or in the office!
Flavour: Cherry
Strengths: 500mg, 1000mg, 2000mg
Benefits:
A great way to help your body relax naturally
Includes lemon balm, an antioxidant that contributes to a good, calm rest
CBD Muscle Rub
But wait! We've saved the best for last. Our CBD Muscle Rub doesn't fit on the timeline, because it should be taken whenever you need it! A great support for any fitness regimen. 
Scent: Natural
Strengths: 300mg
Benefits:
Portable and easily-absorbed, so it's great for the gym
Includes argan oil, eucalyptus oil and lavender to promote natural support
Learning more about CBD
Whether you use CBD everyday, are a fitness nut, or just have no clue where to start, Vitality CBD has you covered. Why not check out our full CBD shop, and explore our options; ranging from CBD oils to CBD cosmetics and CBD rubs. 
Got any queries about CBD and its safety? Then give our team of CBD experts a shout! We're online Monday-Friday 9-5pm, so drop us a message on our contact page, or pop into the live chat in the bottom right corner of every single page!