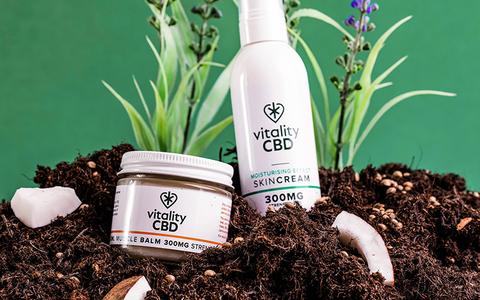 A Guide to Our CBD Topicals
Why choose Topical CBD Products?
When you buy CBD, don't just limit yourself to CBD e-liquids and CBD oils—many people also choose to take CBD through topical application. CBD offers a unique and fresh new way to tackle skincare. 
First and foremost, our CBD Skin Cream is made using Pure CBD while our CBD Muscle Balm uses broad spectrum CBD. The key fact here is that all of our products contain 0% THC, allowing you to feel confident with however you choose to take CBD. 
If you've not read Vitality CBD's introductory guide to CBD, we recommend that as a starting point, but if you want to learn more about how our CBD Skin Cream and CBD Muscle Balm work, we're here to help.
Localised CBD skincare
The main factor that differentiates between each method of CBD consumption is bioavailability. Essentially, a compound's bioavailability is the amount of it that can be absorbed into your circulatory system, and the rate at which this happens.
The more direct a path to the bloodstream, the higher the bioavailability, hence the use of IV drips in hospitals. As discussed in our guide on CBD e-liquids, vaping CBD has the highest bioavailability in our product range, due to the number of blood vessels found in the lungs.
By contrast, topically applied CBD will likely never reach the bloodstream, acting instead as targeted support for a specific portion of your skin.
How to apply CBD
Both our CBD Skin Cream and CBD Muscle Balm have a similar method of application: simply massaging them into the affected area for the desired hydrating effect. This then leads to a subtle onset of CBD, taking around 60 minutes, and lasting up to 6 hours.

Similarly, our pampering CBD Infused cosmetics range can be used as frequently as necessary without any adverse side effects from CBD overuse. If you'd like to learn more about our CBD cosmetics collection, view our complete guide here. 
CBD Skin Cream or CBD Muscle Balm?
So, now you understand what separates our topical CBD products from the rest of the Vitality CBD range, it's time to decide whether the CBD Skin Cream or the CBD Muscle Balm is a better fit. Fortunately, given their different points of focus, this distinction is a little simpler than between our Oral Drops & Oral Spray. 
CBD Skin Cream
As the name suggests, our CBD Skin Cream is designed with everyday skin care in mind. Not only does it contain 300mg of CBD, it also contains a unique blend of moisturising ingredients to ensure the cream works on two fronts.
These ingredients include sweet almond oil, beeswax, ginseng root extract, and chamomile flower extract, all bound together by a natural Green Tea and Lemon fragrance. Throughout our product range we generally foreground CBD and the hemp plant, but our CBD Skin Cream is concerned with a wider balance.
This balance manifests in the potent moisturising effects of each individual ingredient. By drawing these disparate but powerful properties together, alongside CBD's impact, the potency of our Skin Cream's essential care is amplified.
CBD Muscle Balm
Where our CBD Skin Cream is focused on moisturising and supporting the ongoing care of your skin, Vitality CBD's CBD Muscle Balm is designed for post-workout relaxation.
Like our CBD Skin Cream, our CBD Muscle Balm contains a cannabinoid rich broad spectrum extract with 300mg of CBD to engage the body's endocannabinoid system, simultaneously targeting receptors in your skin and muscles.
Vitality CBD's specially curated CBD Muscle Balm is comprised of an extensively vetted series of ingredients, harnessing an array of organic extracts to further the natural properties of the hemp plant.
For example, the organic coconut oil we use is well known for its conductivity with CBD, and gives our balm its smooth and easy to applicate qualities. This is further enhanced by the blend of other organic oils, including argan, rosehip, geranium, eucalyptus and lavender.
Argan oil, particularly, is well known for its unsaturated fatty acids, as well as containing more antioxidants per ml than olive oil. The oils in our CBD Muscle Balm act together to achieve a greater cosmetic effect than the sum of their parts. 
Learn more about CBD
Our current product range is a reflection of years of research and development, all guided by Vitality CBD's central belief in the natural synergy of the hemp plant. That's why everything in our CBD collection has been tested thoroughly. 
We also have category pages that cover each of our product ranges, including CBD e-liquids, CBD oils and CBD cosmetics, or if you just want to get a better overview on cannabidiol, see our beginner's guide to CBD. 
If you've got any further questions surrounding our topical CBD products or CBD in general, our experienced team are always on hand to answer any questions. You can reach out to us on our contact page.