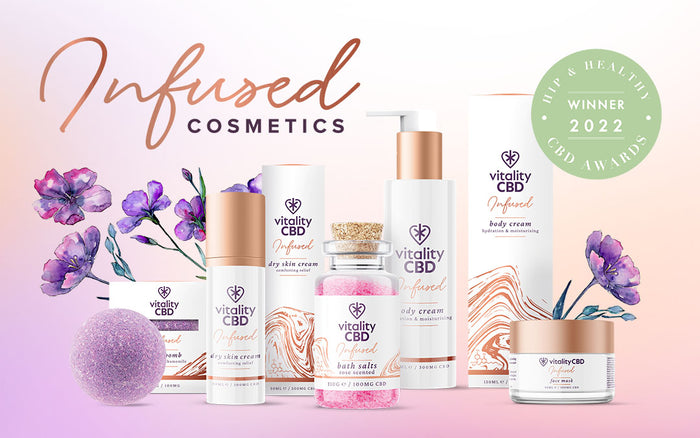 Finding the best CBD Cosmetic Products for you with Vitality CBD Infused
Odds are, if you use CBD, you probably use CBD oil. They're far and away the most popular way to use CBD, largely as a result of them being the most traditional method. That doesn't necessarily mean they're the best CBD product for you though. 
CBD is incredibly versatile, which is why it's been utilised in such a wide range of product types, from CBD oils to CBD edibles and CBD e-liquids. Today, we'll be going over what you should look for in a CBD cosmetic, how to decide between the huge number of options, and what you'll be able to find from our Vitality CBD: Infused Cosmetics range.
 Before you buy CBD, always consult Vitality CBD. 
What are CBD cosmetics?
In the world of CBD, categories are rarely named in a complicated fashion. CBD oils are CBD extract mixed with a carrier oil; CBD edibles are a CBD extract blended into a food item, like our CBD Gummy Bears and CBD Cosmetics nare...drumroll, please...CBD extract mixed into a cosmetic product. 
Still, if CBD is normally taken through an oil, or a vapour, then how does taking it through a topical cream or balm differ? Surely it can't work in the same manner? Well, to understand that, we have to look at the endocannabinoid system.
CBD and the endocannabinoid system
Whenever you take CBD, or cannabidiol, you're taking a class of compounds known as 'cannabinoids'. Though first discovered in the hemp plant, they are found throughout the entirety of nature, including (you guessed it) the human body. These cannabinoids are known as endocannabinoids—literally, internal cannabinoids. 
These endocannabinoids form the cornerstone of the endocannabinoid system, a vast network that is spread throughout the majority of your organs, your nervous system, and your immune system. Most importantly? It's also found across your skin! 
The endocannabinoid system monitors your bodily processes and ensures networks like the nervous system operate correctly. It acts as an assistant manager, overseeing certain parameters like temperature, pressure and pH.
When you take a CBD cosmetic, the CBD interacts with the many, many endocannabinoid receptors in your skin. Rather than focusing on getting CBD into your circulatory system, as you would when taking a CBD oil, instead, you're applying it right where you want it.
What makes a good CBD cosmetic?
If there's one thing we've learnt over the course of creating our CBD topicals, many of which are cosmetics, it's that CBD works best when accompanied with other high quality ingredients. Don't accept a low quality product simply because it has the added value of CBD.
Already know what makes a great cosmetic? Then you're at a great advantage. Before you buy CBD, you can check through the ingredient lists to see whether you're getting a quality, natural product, and even the surrounding text to see what the brand in question emphasises. There's no hard and fast rule, but some quick detective work will unveil a cheap, cash-grab product. 
Less informed about what makes a good cosmetic? Then the same still applies. Read the text, and see how informed it feels—if it only discusses CBD then the makers probably haven't taken the time to research and develop first-rate products. Our own research is why all of our CBD cosmetics have several additional feature ingredients.
The Infused: Skincare Box
The Infused: Skincare Box is a collection of CBD cosmetics centred around keeping skin revitalised. Each item can be applied daily to help users enhance their skin health. This bundle is a perfect way to stay on top of your skin care in an easy and convenient manner. 
The box includes face serum, eye serum, cleanser, exfoliator, anti-blemish cream and dry skin cream. 
Packed with unique CBD-based products, you can get the Infused: Skincare Box for just £49.99- saving a remarkable 60%. Skin care can be expensive, and with the current Cost of Living Crisis, it can be difficult financially to keep up with an effective routine. At Vitality CBD, we have made skin care both simple and affordable.
Grab yours today, and boost your skin care routine.

Our Vitality CBD Infused Cosmetics Collection:
Our CBD Cleanser uses a unique formulation to gently but thoroughly remove skin pollutants. To ensure your skin is left clear and irritation-free, we guarantee no unwanted adulterants.
Exfoliating has never been easier than with our CBD Exfoliator. Our premium blend of ingredients work in conjunction to clear away dead skin cells, resulting in decongested pores. 
Looking after your skin isn't just about a daily routine, it's about taking the time to restore vitality to damaged skin. That's where our CBD After Sun comes in.
Our holistic CBD Eye Serum formula works on three key areas: to reduce puffiness, lighten the under-eye area, and gently smooth out fine lines.
Looking for an effective way to introduce CBD to your skincare routine? Our CBD Face Serum firms and lightens your face to promote clearer and brighter looking skin.
Our CBD Face Mask has a naturally refreshing feel to make your skincare ritual as luxurious as possible. Apply. Soothe. Relax. Treat your skin to a natural reward today.
There's no better way to take CBD than during deep relaxation, and what better way to unwind than with a naturally soothing bath? Take a soak today.
One of our favourite ways to take CBD is to pause, sit back, and soak it in. Indulge in some self-care with our luxury CBD bath bomb, and enjoy its blend of naturally soothing aromas.
Our leading ingredients 
We wouldn't give advice we hadn't followed ourselves, which is why we built our entire CBD cosmetics range, Infused, from the ground-up. Each product had to function well of its own accord before we added our high-quality CBD extract, else it wasn't approved. 
The main thing that makes our range special is that we haven't just curated a great selection of ingredients for each product; we've also chosen three lead ingredients that are so special we had to include them in every single one. 
CBD
Perhaps it's not too surprising that CBD is our first lead ingredient, but as the UK's leading CBD brand* we're firmly at the forefront of CBD innovation. That's why we're confident in CBD's utility in a CBD cosmetics range as an integral, all natural ingredient.
CBD is directly similar to chemicals the body already produces, known as endocannabinoids. When combined with our easily-absorbed creams and balms, CBD interacts with the huge number of endocannabinoid receptors in your skin. These receptors themselves are part of the much wider endocannabinoid system, present in your nervous system, immune system and most major organs.
Our expertise with CBD means that each of our products has been specially designed to deliver CBD to the desired areas efficiently. Thanks to its novel method of engagement with the body, CBD cosmetics represents a totally new step for everyday skincare.
AnnonaSense
Our second lead ingredient, which is currently unique in the UK cosmetics market, is AnnonaSense, an activator of the CB2 receptor. We've chosen it as a strong cosmetic ingredient in its own regard, but also as a natural collaborator with CBD.
Much like CBD is derived from hemp, AnnonaSense is derived from Cherimoya, acclaimed due to its high level of antioxidants, vitamin C and proteins. We sustainably harvest them from their natural homes in the Amazon rainforest and the Andes, further promoting the natural basis of Infused.
We're incredibly proud to say that after selecting AnnonaSense as one of our lead ingredients, it won the Innovation Zone Best Ingredient Award 2019 at in-cosmetics Asia. As we continue to look ahead for the UK CBD market, it's exciting to see the industry move forward with us.
Argan Stem Cells
Our third lead ingredient has been created through our utilisation of advanced technology that enables the laboratory reproduction of plant cells. To further our holistic approach to natural skincare we've replicated stem cells from the rare and protected argan tree, in an eco-friendly, sustainable manner.
So, what is argan? The argan is one of the oldest tree species in the world, renowned for its ability to survive intense drought and extremely high temperatures. In turn, the harnessed argan stem cells capture these protective qualities and apply them to the skin.
A naturally potent skincare ingredient, argan stem cells have been shown to promote skin rejuvenation. The natural strength of the argan tree is why we're proud to include argan stem cells in every product in our CBD cosmetics range.
Want to explore? Our CBD cosmetics page runs through every single product in our range, breaking down each of the feature ingredients we chose for each one, and why. We value transparency as much as we value user understanding. 
Learn more about CBD
We know we just mentioned it, but if you want more information on our range, check our dedicated CBD cosmetics page. It's full of handy information about our cosmetics, and why they're so essential!
Not interested in cosmetics whatsoever? How did you end up here then!? Fortunately, you're in luck. You can also check out our best selling Well-being range, covering CBD oils, CBD e-liquids and CBD edibles. Whatever your CBD needs, we've got you covered. 
If you've got some unaddressed questions, then we'd recommend giving us a message on our contact page, or on our live chat—it's in the bottom right corner of each page! We're here Monday-Friday 9-5pm to answer any of your CBD queries.