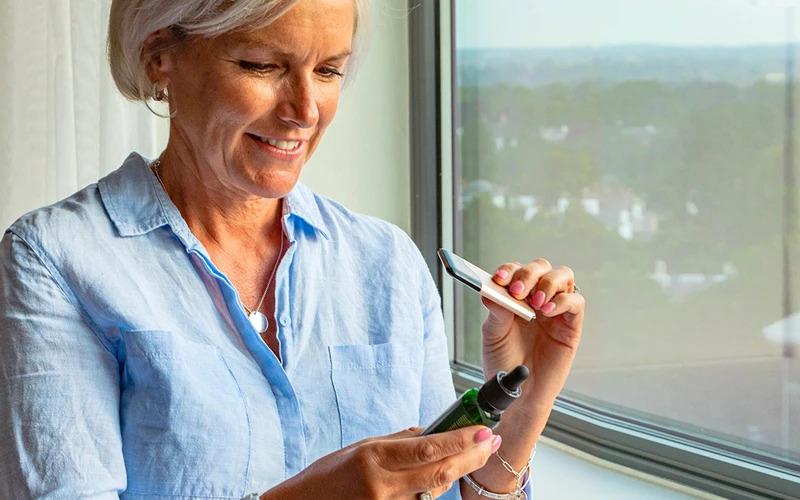 CBD E-liquids: Everything You Need to Know!
What is CBD Vape Eliquid?
CBD e-liquids are liquids containing CBD that are used in e-cigarettes. These e-liquids, as they are known, are vaporized by the e-cigarette. The resulting vapour is then inhaled into the lungs of the user, where the CBD is infused into the bloodstream.
What is in CBD E liquid?
CBD e-liquids contain a few simple ingredients, many of which are used in MHRA approved foods and medicine. The main ingredients are:
PG (propylene glycol) - Commonly used as a food additive, PG is a colourless odourless liquid with a faintly sweet taste.
VG (vegetable glycerin) - Also a common additive in food, VG is slightly thicker than PG and has a more pronounced sweet taste.
Water
CBD extract
Flavouring - The flavourings used in e-liquids are all MHRA approved and often used in a variety of other products.
Is CBD Vape Eliquid legal in the UK?
Yes, as long as it contains under 0.2% THC. THC is the compound found in hemp and cannabis that gives the 'high' associated with illegal cannabis use. Any CBD e-liquids sold in the UK should not contain THC, which also means they won't get you high.
Should I vape CBD e-liquid?
When selecting the right CBD product for you, there are a lot of factors to consider. For those that are already vapers, e-liquids might be a comfortable and familiar way to take CBD. However, for those who may be moving over from smoking or are concerned about the health impacts of vaping, there are rightfully some key facts to consider.
Like CBD, vaping is quite a new phenomenon and so the health effects are not fully understood yet. However, it is worth noting that the NHS has concluded that vaping is up to 95% healthier than smoking.
Are e-liquids really the most efficient way to take CBD?
Yes! CBD e-liquids are the most efficient way to take cannabidiol due to its ease of absorption into the bloodstream through the array of blood vessels found in the lungs. We refer to this as bioavailability - namely the amount of an ingested compound that makes it into circulation and has an active impact on the body.
Converting CBD into a vapour increases its bioavailability due to the larger surface area created by the dispersion of molecules. Imagine you're trying to eat a pizza as quickly as possible: as tempting as it is to stuff the whole thing in your mouth, it's much easier for your body to process in slices.
What types of CBD e-liquids are there?
Whole Plant E-liquid
Our Whole Plant E-liquid is the culmination of years of research and development, acting as a perfect union of scientific process and natural balance. The first human use of hemp dates back to 8,000 BCE, but the compounds found within the hemp plant have developed alongside each other for millenia more. Our goal at Vitality CBD is to harness that unrefined power. 
Since our Whole Plant E-liquid is so focused on natural synergy, it only seems right that it comes in just one flavour: natural. The vape juice itself is thick and rich, a testament to our desire to capture the essence of the hemp plant. Needless to say, this is one for the CBD enthusiasts. 
Due to the viscosity, we recommend you use a sub-ohm device for vaping, even when mixing with other vape juices and additives. Use approximately 1ml (20 drops) per day, and allow a few minutes after filling before vaping.
Pure CBD E-liquids
Pure CBD e-liquids are based upon 99.9% pure CBD. Our Pure CBD range is very similar to the more usual e-liquids. These are perfect for those who love to vape and are looking to seamlessly add CBD to their e-cigarette. Bold, fresh flavours that are still premium; that's what makes our latest range direct and to the point. 
Using our experience in the vape industry, we've put together a range of 6 initial flavours. These are perfect for CBD newcomers, with absolutely no THC whatsoever. If you don't want anything other than CBD in an easy-to-vape format, this is the option for you. 
All six of the Vitality CBD Pure CBD E-liquids are 50/50 PG/VG, which means the optimum devices for use are mouth-to-lung. These are generally affordable open pod devices, and are commonly available from all major e-liquid retailers.
Pure CBD e-liquid flavours
We're proud to offer our 6 flavour profiles. Each one packs a real, potent punch that we're sure you're going to love. Want to know more? Check them all out below. 
Orange, Elderflower and Lime
Our Orange, Elderflower and Lime flavour uses a zesty blend of tropical citrus tones balanced out smoothly with the quintessentially British elderflower.
Honeydew, Raspberry and Orange
Savour the natural freshness of summer balanced with a little berry tartness with our Honeydew, Raspberry and Orange flavour explosion. 
Papaya and Peach
Looking for a really juicy flavour? Our Papaya and Peach Pure CBD e-liquids have luscious fruity overtones with a sweet aftertaste, making it delicious top-to-bottom.
Grape, Blackcurrant and Aniseed
Our Grape, Blackcurrant and Aniseed flavour profile is made up of a blend of ripe berry flavours, with a hint of aniseed for that little extra edge.
Passionfruit and Pear
Our Passionfruit and Pear flavour blend makes for a uniquely alliterative pairing. This one really pops off the tongue thanks to its tropical tang.
Broad spectrum E-liquid
Where Vitality's Whole Plant E-liquid is a wholly natural experience and our Pure CBD e-liquids are closer to normal e-liquids, our broad spectrum e-liquid takes a user-friendly tact that's somewhere in between. 
In addition to natural hemp, we've also worked to create two delicious flavours: berry and lemon. The sweet tang of the berry perfectly masks the hemp taste, whilst the citrus zing of the lemon makes for a particularly fresh inhale. Don't just take our word for it - our lemon vape juice won Best Fruit CBD E-liquid at Vape Jam 2019!
Broad Spectrum E-liquid Strength Breakdown 
A great thing about our broad spectrum e-liquids are the various strengths. We've kept it simple, breaking it down into 3 options. If you're unsure where to start, see our helpful breakdown below:
300mg - A great introduction to vaping CBD. If you are new to CBD e-liquids or are a little sceptical, we'd recommend starting here.
600mg - Our medium strength vape juices have a bit more of a kick, but are still great for everyday use. Perfect for regular vapers.
1200mg - The big one. Even for veteran users our 1200mg oils pack a punch, though they're still designed with daily usage in mind. 
Learning more
Our current product range is a reflection of years of research and development, all guided by Vitality CBD's central belief in the natural synergy of the hemp plant. 
To learn more about the rest of our product range, see the following articles on our CBD oils, and our CBD cosmetics, or if you just want to get a better overview on cannabidiol, check out our CBD beginner guides here!