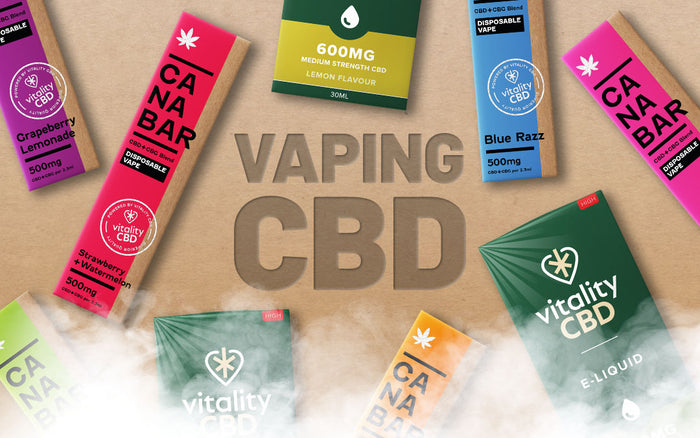 CBD Vape Juice: Everything You Need to Know!
What is Vaping CBD?
Vaping is the simple act of inhaling the vapour produced by heating e-liquid in a vape device. You'll see this most commonly done as a smoking cessation method but is also a fantastic method of dosing CBD. In fact, vaping CBD has some major advantages over other dosing methods. In this guide we'll explore everything about vaping CBD and everything you need to get started.
What is CBD Vape Juice?
CBD vape juices, also known as CBD e-liquids or CBD vape oil, are liquids containing CBD that are used in e-cigarettes. These delicious liquids are absolutely crucial to the vaping process whether you vape with refillable or disposable devices. CBD e-liquids are vaporised by the e-cigarette and then inhaled into their lungs where the CBD is infused into the bloodstream.
Should I Vape CBD?
There is one major advantage to vaping CBD: increased bioavailability. This simply means that more CBD is absorbed into the bloodstream per MG taken. By vaping CBD, not only do you experience delicious flavours, you are actually getting more CBD for your money.
When selecting the right CBD product for you, there are a lot of factors to consider. For current vapers, e-liquids and CBD disposable vapes might be a more convenient and familiar way to take CBD. However, for those who may be moving over from smoking or are concerned about the health impacts of vaping, there are rightfully some key facts to consider.
Like CBD, vaping is quite a recent phenomenon and so the health effects are not fully understood yet. However, it is important to note NHS England has concluded that vaping is 95% healthier than smoking.
Is Vaping CBD Legal in the UK?
Yes, as long as the device or e-liquid contains CBD from hemp containing less than 0.2% THC. THC is the compound found in hemp and cannabis that gives the 'high' associated with illegal cannabis use. Any CBD e-liquids or disposable vapes sold in the UK should not contain THC, which also means they won't get you high.
Are CBD Vape Juices Really the Most Efficient Way to Take CBD?
Yes! Vaping CBD is the most efficient way to take cannabidiol because of how easily it can enter the bloodstream through the many blood vessels in the lungs. As mentioned above, we refer to this as bioavailability - namely the amount of an ingested compound that makes it into circulation and has an active impact on the body.
Converting CBD into a vapour increases its bioavailability because of the larger surface area created by the dispersion of molecules. A larger surface area for molecules to absorb results in improved efficiency, so your body can use more CBD per milligram.
How Can You Vape CBD?
Vaping CBD can be done in a couple of different ways depending on preference. Below we will explore the two main ways of vaping CBD and explain the advantages and things to keep in mind for both methods.
CBD Vape Juice
One way to vape CBD is to use CBD e-liquids in your own refillable, rechargeable vape device. This method is similar to the more traditional forms of vaping and allows vapers to choose their preferred flavour and use it in their personal device.
Using CBD e-liquids has many advantages. The first is that you have greater control over the experience. Vapers can choose their type of CBD e-liquid and use it with a device tailored to their exact preferences.
The drawback of this flexibility is the need to purchase and familiarise yourself with different bits of vaping equipment. For new vapers this can be a big commitment to something they may not enjoy. In the long run however, vaping CBD by just topping up your CBD e-liquid is far more cost-efficient than buying disposables.
Disposable CBD Vapes
Disposable CBD vapes are probably the easiest and most convenient way to start vaping CBD. These small devices typically come in small, brightly coloured, pen-shaped devices that can be easily stored in a bag or pocket. Every CBD disposable vape contains a pre-charged battery and is prefilled with flavoursome CBD e-liquid, giving you everything you need to get vaping.
The main advantage of disposable CBD vapes is that they require no set-up and can be used straight out of the box. This is perfect for beginners or those looking to vape as quickly and easily as possible. If you think that CBD vaping could be for you, then starting off with a disposable is an easy and cost effective way to see if you enjoy it.
However, in the long run, CBD disposables are not the cheapest option; after all, you are essentially buying a whole new device every time, rather than just the CBD eliquid. Nevertheless, CBD disposable can be a helpful (and delicious) way to vape CBD. Explore the range of amazing flavours now and you could get vaping CBD in a matter of moments!
What Does CBD E-liquid Contain?
No matter if you choose to buy CBD e-liquid or disposable CBD vapes, the e-liquid within will be the star of the show. So what does it actually contain? CBD e-liquids contain a few simple ingredients, many of which are used in MHRA approved foods and medicine. The key ingredients in CBD e-liquids are:
PG (propylene glycol) - Commonly used as a food additive, PG is a colourless, odourless liquid with a faintly sweet taste.
VG (vegetable glycerin) - Also a common additive in food, VG is slightly thicker than PG and has a more pronounced sweet taste.
CBD extract.
Flavouring - The flavourings used in e-liquids are all MHRA approved and often used in a variety of other products.
What Types of CBD E-liquid are There?
Isolate CBD E liquids
CBD isolate e liquids are vape juices based upon 99.9% pure CBD. These are perfect for those who love to vape and are looking to add CBD seamlessly to their e-cigarette. These e-liquids do not contain any additional terpenes, flavonoids or cannabinoids, which means they can be flavoured more intricately.
The majority of Isolate CBD e liquids are 50/50 PG/VG, which means the optimum devices for use are mouth-to-lung. These are affordable open pod devices and are commonly available from all major vape retailers in-store and online.
CBD + CBG Blend
Sometimes an e-liquid will feature a blend of both CBD and CBG. CBG stands for cannabigerol, which is a cannabinoid like CBD found in the hemp plant. CBG is taken for the exact same reasons as CBD and together can even complement one another.
There are good reasons some CBD brands blend both CBD and CBG together. First and foremost, CBD and CBG work well alongside each other and provide users with a more authentic hemp experience. Secondly, CBG creates a much smoother 'throat hit' and a more satisfying vape.
Broad spectrum CBD E-liquid
Broad spectrum vape liquids retain 40 different cannabinoids to complement the CBD, but leave out the additional waxes and oils found in whole plant e-liquid (more on that below), making the finished result much easier to vape. 
Broad spectrum CBD e liquids are available in several different flavours. Besides natural hemp, we've also worked to create two delicious flavours: berry and lemon. The sweet tang of the berry perfectly masks the hemp taste, whilst the citrus zing of the lemon makes for a particularly fresh inhale. Don't just take our word for it - our lemon vape oil won Best Fruit CBD E-liquid at Vape Jam 2019!
Broad Spectrum CBD E-liquid Strength Breakdown 
A great thing about broad spectrum e-liquids are the various strengths. We've kept it simple, dividing the range into 3 options. If you're unsure where to start, see our helpful breakdown below:
300mg - A great introduction to vaping CBD. If you are new to CBD e-liquids or are a little sceptical, we'd recommend starting here.
600mg - Our medium strength vape juices have a bit more of a kick, but are still great for everyday use. Perfect for regular vapers.
1200mg - The big one. Even for veteran users our 1200mg oils pack a punch, though they're still designed with daily usage in mind.
Whole Plant CBD Eliquid
Whole Plant E-liquid is the culmination of years of research and development, acting as a perfect union of scientific process and natural balance. To properly channel the innate properties of the hemp plant, manufacturers keep the whole range of these collaborative elements, including 40 different cannabinoids, terpenes, flavonoids, waxes and oils. 
Since Whole Plant E-liquid is so focused on natural synergy, it is often only found in a natural hemp flavour. The vape oil itself is thick and rich, unlike traditional e-liquids. You may even have to combine the whole plant e-liquid with other e-liquids to get it to work with your vape device. Needless to say, this is one for the CBD enthusiasts. 
Due to the viscosity, we recommend you use a sub-ohm device for vaping, even when mixing with other vape juices and additives. Use approximately 1ml (20 drops) per day, and allow a few minutes after filling before vaping.
CBD Vape Oil: Is it the Same as CBD E-liquid?
It depends on the context. CBD vape oil is sometimes used as a term for CBD e-liquids; in that case, it is the same liquid described above. However, some people may be talking about vaping regular CBD oil, the kind you take orally. Under no circumstances should you vape normal CBD oils. Oral CBD oils are not safe to use or inhale as they are not made from VG/PG, you will just be inhaling hot oil into your lungs.
Where to buy CBD Vape in the UK
CBD e liquids are growing in popularity quickly, both in the UK and internationally. You can find CBD e-liquids in a local vaping store, or you can order them online. We have an award-winning selection of Broad Spectrum CBD e-liquids to choose from and shipping is free for UK customers. If you'd like to learn more about vaping CBD, feel free to get in touch with our friendly CBD mentors.