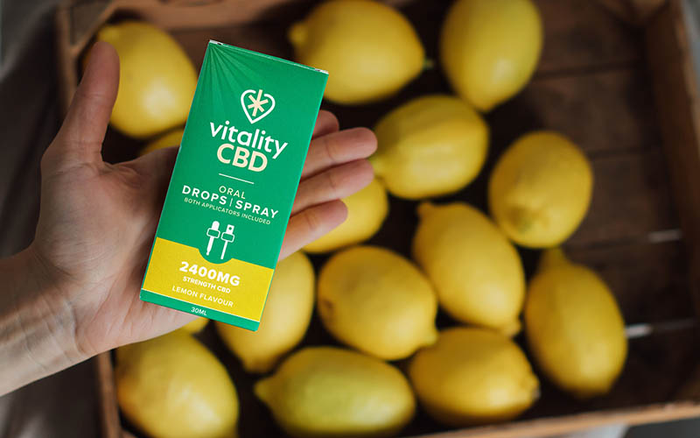 What CBD flavours are available?
With 1.3 million CBD users in the UK, CBD oil is more popular than ever and the number of users seems unlikely to stop growing. These certainly are exciting times to begin adding CBD to your daily routine, and the number of available CBD flavours is something that can help people start their journey, or add variety for those who are already enjoying CBD products.
Here at Vitality CBD, we pride ourselves on the number of CBD flavours we can offer our customers. There really is a product to please even the most selective of taste buds!
CBD oil flavours
One of our most popular product ranges, our CBD oils are all about versatility and are a fantastic way to start using CBD or to make sure you're getting your preferred daily intake. Available in multiple strengths and application methods, our oils also come in different flavours.
The first and perhaps most popular flavour is the Natural Flavour CBD oil. Relying on the Natural taste of the oils and our high-quality CBD extracts, this subtle and mild flavour is a great place to start if you're not sure which flavour you'll prefer.
However, if you prefer a bolder flavour then the Lemon Flavour CBD oil is also proving to be a real crowd pleaser. Lemon is always popular across a variety of products, and our Lemon flavour CBD oil is a less unusual taste than Natural, perfect for those hesitant of a natural CBD flavour or just looking for something new.
If Lemon or Natural aren't to your taste, you are in luck as there is an entirely different flavour available; the sweeter Berry Flavour CBD oil. This flavour is for those who maybe want something richer on their palette, offering a sweet alternative to the previous flavours.
The range of flavours doesn't end there for our flavoured CBD oils. Explore our Active fitness range for a bold and punchy choice of fruit flavours. These options reflect the dynamic Active range perfectly, but also make ideal alternatives to the more subtle flavours above.
The first is the best-selling CBD Relax Drops, winner of Men's Health Best CBD Product. This popular CBD oil is formulated with natural ingredients such as lemon balm for a good, calm rest but the flavour is all delicious Cherry. A richer taste that is more obvious in the mouth, our Relax drops are a tasty way to support your sleep.
If you're looking for the energising zestiness of an Orange flavour, then the Active range's CBD Boost Drops are perfect for you. Fortified with vitamin B12 to help reduce tiredness and fatigue, our Boost drops are perfect for orange lovers or those simply looking to add something more to their exercise.
Searching for a more lively citrus flavour? Our tangy Lime flavoured CBD Focus Drops from the Active range are a perfect candidate. This tasty CBD oil is enriched with vitamin A for maintaining healthy metabolism and clear vision, and is flavoured with an adventurous lime twist for a more exciting CBD oil.
Finally for the CBD oils is the Recover CBD Drops from the Active range, a specially formulated CBD oil that includes vitamin D3 which is renowned for maintaining muscle, bone and immune system function. This CBD oil is also flavoured Lemon, but being from the Active range, it's flavour profile is formulated differently for a sharper lemon taste.
CBD e-liquid flavours
It's not just our range of CBD oils that have a choice of flavours, for those who like to vape CBD there is a great selection of tastes across our CBD e-liquid range. The world of CBD e-liquids is also growing quickly and the biggest brands need a great selection of flavours to compete. We think our flavour choices are among the best, which is why we can provide one of the most premium CBD e-liquid ranges around.
There are flavours you'll recognise in our e-liquid range, with our broad spectrum CBD vape oils available in Natural, Lemon and Berry varieties. These are great for those looking to try out vaping CBD e-liquids, having already loved our CBD oils. 
CBD edibles flavours
Last of all and perhaps most expectedly are our CBD edibles. While our fantastic CBD vitamins come without flavour to make them even more convenient, that is certainly not the case with our CBD Gummy Bears. The CBD gummy bears are flavoured in delicious Raspberry and Orange flavours and, with 5mg of CBD per bear, are a perfect way to supplement your CBD intake!
CBD flavour range
Now that you have seen the wide range of CBD flavours we have across our range, we're sure something will be able to excite your taste buds! Many of the above products are available in a range of strengths and application methods, so your favourite flavour should be completely accessible. For any questions on getting started with CBD, check out our handy beginner-friendly CBD guide, otherwise you can explore our full range here!