Contains
Pure CBD Extract
Berry Flavour
0.0% THC
Vegan Friendly
Berry Flavour CBD Oil Drops 30ml
Our Berry Flavour CBD Oil Drops offer a sweet flavour profile with an easy-to-use and accurate pipette dropper. Available in a range of CBD strengths.
Regular price

£10.04 GBP

Sale price

£14.99 GBP

Unit price

per
Berry Flavour CBD Oil

Our 30ml CBD Oil Oral Drops in Berry Flavour contain premium 99% pure CBD and 0% THC with a subtly sweet and natural fruit flavouring. All of our CBD oils are available in several different strengths to help you find your ideal dosage amount with ease. To retain the flavour in each drop, ensure to shake the bottle before each use.

CBD Hemp Extract

Our premium CBD hemp extract has been ethically sourced and rigorously tested to ensure that all traces of THC have been removed.

Raw Organic Hemp Seed Oil

We use hemp seed oil as the carrier in all of our CBD Oil Oral Drops, meaning you'll still be able to taste the distinct notes of hemp which so many CBD users love.

Natural Berry Flavour

Our Berry flavoured CBD Oil Oral Drops provide an uplifting, fruity taste for your palate with earthy undertones which are harnessed from our hemp seed carrier oil.

Berry Flavour CBD Drops Ingredients:

CBD, Raw Organic Hemp Seed Oil, Natural Berry Flavouring.

Colorado-sourced CBD:

Our natural hemp extract is grown in Colorado, a state known for its expertise and history of hemp cultivation. The final hemp harvest then has the CBD extracted carefully, resulting in the pure CBD extract we use in our CBD oils.

Independent Lab Testing:

Once our CBD extract is ready, we send each and every batch to be independently tested in a laboratory. This means two things: we can meticulously check if each batch of CBD meets our high standards, and that you can view the results of each lab test for extra peace of mind.

All of our CBD products come with a CBD batch number on their packaging. You can enter this number on our CBD Lab Reports page to view the corresponding lab report and see exactly what's in your product.
CBD Strengths and Dosages
CBD strength guide
CBD strength refers to the amount of CBD in each product. Higher strengths mean improved value per milligram of CBD and last longer, as less oil or spray is needed to get the right dose.
How Long Will Each Oil Last?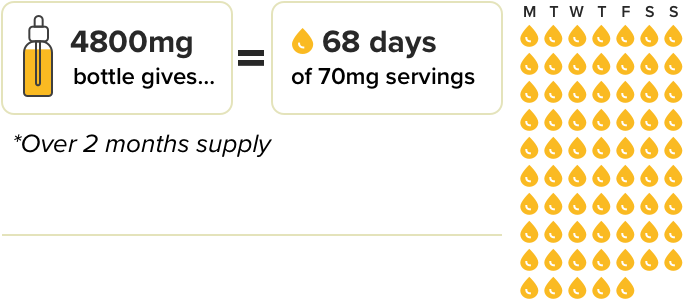 Double the strength double the servings!
What CBD Dose Should I take?
We recommend 70mg of CBD daily. This is based on user research where we found that users who consistently took 70mg CBD were amongst the most satisfied customers.
How to Achieve a 70mg Daily Dose:
Pipette 2400mg 30ml bottle =
Take 0.4ml (32mg CBD) in the morning
Take 0.4ml (32mg CBD) in the evening
Spray 2400mg 30ml bottle =
Take 3 sprays (33.6mg CBD) in the morning
Take 3 sprays (33.6mg CBD) in the evening
*70mg CBD exact or near, all calculations are approximate.
CBD usage guide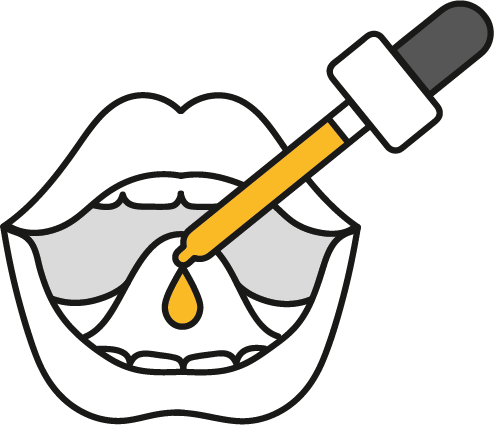 1

Shake the bottle well before opening

2

Drop the CBD oil beneath tongue

3

Hold the CBD oil under your tongue for at least 90 seconds or until fully absorbed
Buy Now
Berry Flavour CBD Drops FAQs
Is the flavour of hemp stronger in higher CBD strengths?

You'll still be able to enjoy a clear, rich Berry flavour regardless of your chosen CBD strength. This is because we always adjust the amount of flavour for higher strengths in order to lessen the more prominent notes of hemp.

Who is the 30ml CBD Oral Drops in Berry Flavour recommended for?

Our 30ml CBD Oil Oral Drops in Berry Flavour are ideal for those looking for a flavour which combines sweet notes with earthy hemp undertones.

How long will this bottle last?

How long your bottle will last will vary on your chosen strength. As a guide, our lowest strength of 300mg will last approximately 4.5 days, while our 1200mg strength will last approximately 18 days, provided that you are following our recommended daily dosage amount of 70mg.