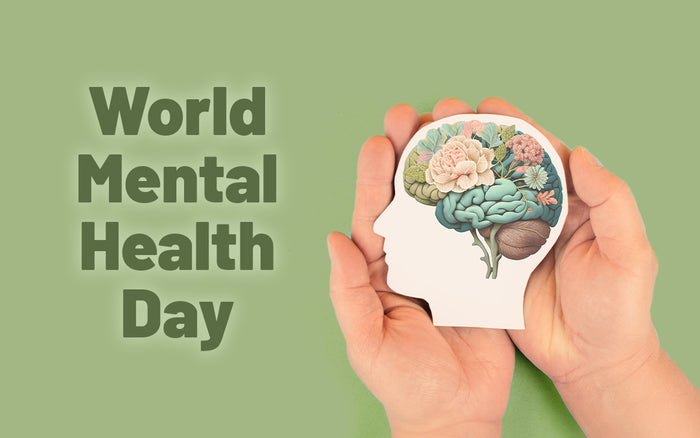 Looking After Number One - Prioritise Mental Health
October 10th marks the arrival of World Mental Health Day. It's a day to raise awareness about mental health issues that affect millions on a daily basis. It's time to break the stigma and begin difficult conversations. However, awareness is just the beginning, it's time to act.
In an increasingly fast-paced and interconnected world, the importance of a balanced mental state cannot be overstated. As we observe World Mental Health Day, it's a timely reminder that mental well-being is just as vital as physical health.
The Global Mental Health Crisis
Mental health issues affect people of all ages, backgrounds, and walks of life. According to the World Health Organization (WHO), depression is the leading cause of disability worldwide, with over 264 million people suffering from it. Anxiety disorders, substance abuse, and other mental health conditions also contribute significantly to the global burden of disease. However, despite these alarming statistics, mental health remains a neglected issue in many parts of the world.
Speak Up, Speak Out
Although a sensitive topic, it's vital that you speak about your mental wellbeing if you're exhibiting any signs of deteriorating mental health. Of course, you should contact your local GP to discuss such issues, or in more severe cases Samaritans. But speaking to a colleague, friend or family member can have just as much a positive impact as speaking to trained professionals.
It all begins with a conversation. The first step on the road to improved mental wellbeing can begin with a simple chat. Be honest, be brave and make the decision to open up. Remember, letting somebody know you're feeling down IS NOT a sign of weakness, but rather the opposite. 
The role of Vitality CBD
Established in 2018, Vitality CBD is a trustworthy brand renowned for providing customers with premium CBD products. In addition to this, we're also huge advocates of protecting and improving mental health. We're proud to provide a plethora of CBD essentials which are all meticulously designed to improve general wellness. 
This includes our Wellbeing, Active and Support ranges. Every little helps, incorporating CBD into your daily routine can have a positive impact on your outlook on the day, and can also result in improved productivity. Whether it's a successful day at work, or a gym session whereby you can feel improvement, you're entitled to a day filled with contentment - Vitality CBD can be the perfect ally. 
Take Action
World Mental Health Day is not solely about raising awareness; it's also a call to action. Here are some steps we can take as individuals and as a society to prioritise mental health:
Let's Work Together
As we commemorate World Mental Health Day, let's stay acutely aware that the kind of practices promoted for today should be observed all year round. Mental health isn't just seasonal, it affects many each and every day. We can all do our part to create a more tolerant and inclusive society. No matter what race, sex, age or sexual orientation, everybody should be able to feel comfortable in their own skin. We can only achieve this by breaking barriers and improving communication.