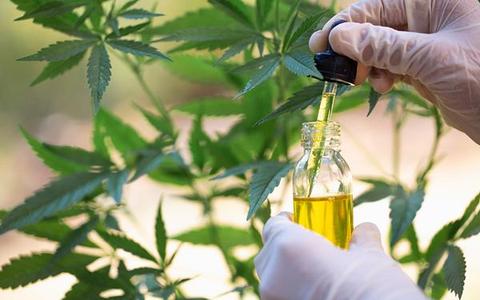 Synthetic CBD vs Natural CBD
Synthesising CBD
It's perhaps unsurprising that we've reached a point where the many different cannabinoids found in the hemp plant can be synthesised in a lab. Horticultural advances over the past few decades have also seen an increasing prevalence of GMOs and the use of artificial lighting in greenhouses.
But how does synthetic CBD compare to the real thing? When you buy cannabidiol, you should be sure of what you're buying, and what the differences are. Thankfully, all of our full CBD product range comes with a promise that they're all natural. 
What is CBD?
CBD, or cannabidiol, is one of over 100 different cannabinoids found in plants from the Cannabis genus. It's commonly discussed in opposition to THC, the primary psychoactive substance in Cannabis—THC gets you high, whilst CBD doesn't.
For our purposes it's significant that cannabinoids like CBD don't just occur in the Cannabis plant. In fact, our body produces its own internal cannabinoids, known as endocannabinoids. The fact that cannabinoids are present in various biological systems and aren't unique to hemp plants is significant.
Essentially, if we know that cannabinoids can be synthesised in our body and in plants, then it raises the question of whether we can synthesise them ourselves. In fact, the first total synthesis of a cannabinoid (THC) was achieved way back in 1965.
You can read our full introductory guide on CBD before you make your decision to buy CBD. 
Recreational synthetic cannabinoids
Synthetic cannabinoids first hit the spotlight in the realm of legal highs. In this instance, the cannabinoids produced were altered versions of existing Cannabis compounds so as to work around banned substance lists. It's important to note that none of the CBD products we sell will ever get you high. 
Since these products (with names like Spice and Black Mamba) were largely untested, the side effects were often far more severe than their natural counterparts. Despite this, because they were only made illegal in the UK in 2016, for a time they were actually much easier to get a hold of than marijuana.
Where synthetic CBD differs is that it's an emulation of an existing cannabinoid rather than an alteration. Furthermore, where legal highs were being produced with little regulation, most synthetic CBD production is occurring in accordance with health and safety practices.
Avoiding potentially harmful synthetic cannabinoids is why we're transparent about what our oils contain. You can view our CBD batch reports page here.
Medical synthetic cannabinoids
Not all cannabinoids are synthesised in order to replicate the psychoactive properties of marijuana. For example, one of the most renowned synthetic cannabinoids currently is an equivalent of THC is called Nabilone.
Nabilone has been through rigorous testing, and was approved by the FDA way back in 2006. This goes to show that when the proper process is followed synthetic cannabinoids are being created for positive reasons.
The question remains whether naturally occurring cannabinoids and synthetic cannabinoids interact with the body in a different manner. At Vitality CBD we always advocate the natural choice in our CBD products, but let's investigate why.
Synthetic CBD vs. natural CBD
You'll sometimes see CBD isolates referred to as 'synthetic', though this is incorrect since isolates can be created from both natural and synthetic sources. In essence, all CBD synthetics are isolates, but not all isolates are synthetic.
Synthetic CBD is an Active Pharmaceutical Ingredient (API) that is chemically identical to the naturally produced hemp-derived CBD. The form it takes, as with most isolates, is a crystalline powder that is then typically mixed with a carrier oil.
What makes synthetic CBD significant is the fact that it acts as a direct analog of the original iteration of cannabidiol. This includes CBD-like compounds that are also found in the hemp plant, including CBDA (cannabidiolic acid) and CBD-C4 (nor-cannabidiol).
The benefits of CBD
Since synthetic cannabidiol is cheaper to produce, we're no doubt going to see a rapidly expanding portion of the market made up of synthesised CBD products. As a community, we need to make sure we're asking the right questions about what that means, whether for positive or negative.
At Vitality CBD, our faith in the properties of hemp, and our belief in our fusion of natural practices with scientific process is our guiding mentality. At the same time we're always open to new pathways to reaching our goal—it's just about starting a conversation.
Learn more about CBD
Understanding how synthetic CBD is distinct is a matter of understanding how the hemp plant works in and of itself. Check out our pieces on terpenes and flavonoids, as well as our overall breakdown of the different types of CBD.
We also have category pages that cover each of our product ranges, including CBD e-liquids, CBD oils, CBD cosmetics, and CBD edibles.
If you have any unresolved questions about synthetic CBD, or some information you'd like to share with us, our experienced team are always on hand to field any questions. You can reach out to us on our contact page.