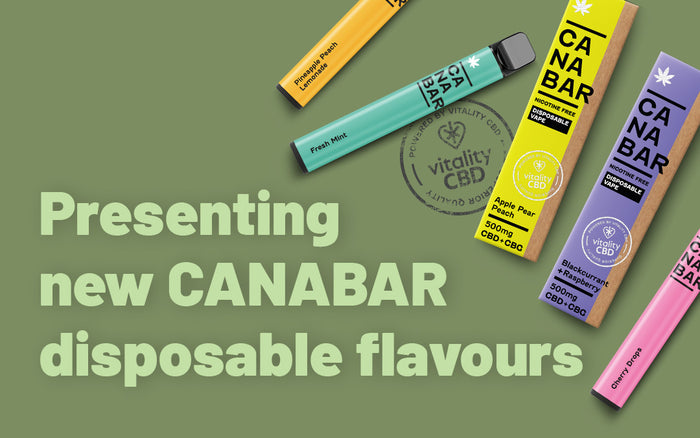 Six Stunning New Additions!
It's time to elevate your CBD vaping experience with six new delightful blends! 
CANABAR have announced the launch of their latest collection of flavours to add to their range of high-quality CBD disposables. CANABAR, who boast a team of experts, are constantly looking for ways to innovate and enhance your vaping experience, and their new flavours are sure to do just that.
Check out the brand-new flavours listed below;
Cherry Drops- A rendition of a classic British candy - Cherry Drops offers a delightfully sweet, rich cherry flavour.
Fresh Mint- Enjoy a burst of coolness with a refreshingly minty taste. You can't go wrong with a distinct, mint flavour - this one will please the traditionalists.
Apple, Pear, Peach- Apple, Pear, and Peach blend the juicy goodness of three fruit flavours in one, making it the perfect choice for fruit lovers. 
Pineapple Peach Lemonade- Pineapple Peach Lemonade is a tropical twist on a classic flavour combination, offering pure summer vibes.
Green Apple Ice- Green Apple Ice provides a crisp and refreshing experience of one of the most distinct flavoured fruits there is.
Blackcurrant + Raspberry- A sweet and tart combination that's hard to resist! Blackcurrant and raspberry is an unbeatable combination and we've replicated it here to a t. 
Each of the flavours listed above have been carefully crafted using natural plant terpenes to deliver a rich and authentic taste. 
All CANABARs are packed with 350mg of CBD and 150mg of CBG derived from organically grown hemp. This means that you can enjoy the benefits of CBD without any of the psychoactive effects of THC. CANABAR disposables are also free from harmful chemicals such as Vitamin E acetate, making them safe for regular use.
With this new range of flavours, you can now customise your CBD experience to suit your taste and mood. You're truly spoilt for choice as you look to enhance your CBD routine. CANABAR disposables are sleek and compact, making them easy to carry around and use on the go. Plus, with no need for charging or refilling, they offer a hassle-free and convenient CBD experience.
Each disposable is just £9.99, so you can indulge in these newcomers without breaking the bank.