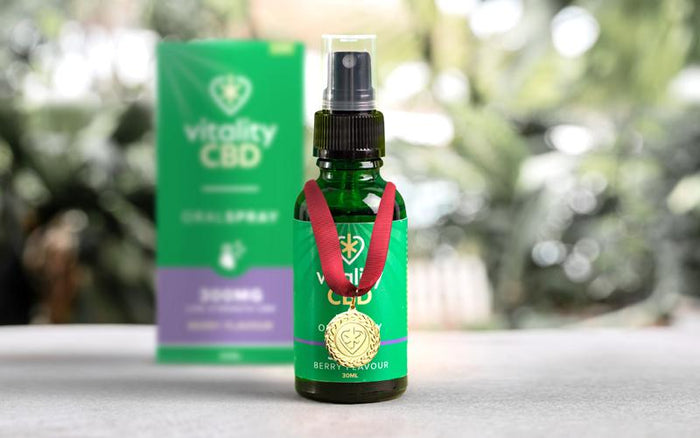 Vitality CBD is Number 1 UK CBD Brand According to Massive Study
After a great first year of operation for Vitality CBD, we had some fantastic news to start 2020 with. Not only were we about to launch a whole new range of fitness products for you to get excited about, but we also shared the news that Vitality CBD is officially the UK's most visible and (we think) best CBD brand.
The Best CBD in the UK
In one of the most comprehensive studies undertaken of the UK CBD sector, CBD Intel revealed the balance of CBD brands, CBD products, and CBD users in the current marketplace. The main finding was that Vitality CBD have over 4,000 retail stockists, making them the most well distributed CBD brand in the country.
We also came second for total number of individual businesses stocking the brand, emphasising our diversification. Whether it's Boots, Tesco, LloydsPharmacy or even your local CBD vape store, we're here for you at each and every step.
What do CBD users want?
The study revealed a series of interesting facts surrounding user purchase decisions and how they are impacting the market. Since the CBD sector is still clearly in its infancy (outside of the top 12 brands, no others had over 1,000 stockists) the direction it'll take is still unclear.
CBD Intel's reported that the market was still represented by over 60% UK brands, though EU and US businesses were currently in the process of edging into the market. Still, for the time being it's clear that users value UK brands due to their proximity and the accountability that affords.
They also looked at the types of products that were being stocked in stores, including pharmacies, health food stores, and vape shops. The most consistent five were as follows (in ascending order):
CBD capsules
Of these five, CBD oils are the most prevalent with over 90% presence—over double that of the next highest category. That's why our CBD Oral Spray and our CBD Oral Drops are our bestsellers. 
The changing face of cannabidiol
Still, the CBD market is set for a shift. Over 70% of retailers were found to offer 2+ product categories, with topicals, vapes, edibles and capsules all being available in 30-45% of retailers. Since CBD oils are by far the most traditional method, the shift in stocking shows that users are demanding a greater spread of products.
For the whole Vitality CBD team this is an incredibly proud moment, but we couldn't have done it without you! For everyone who's made the natural choice recently, we're genuinely grateful you decided to join the Vitality CBD family. Let's make 2021 an even better one.
Learn more about CBD
Want to check us out in one of our stores? You can visit our CBD stockist finder, or even just go to our shop page and buy CBD now.
Now that we're number one, we're not showing any signs of slowing down. You can check out our bestselling CBD Oral Spray, CBD Balm, and CBD gummy bears now via our full CBD product range here!
Got a question about Vitality CBD? We're here to help! Either send us a message on our contact page, or speak to us live via our online chat in the bottom right corner of each page.