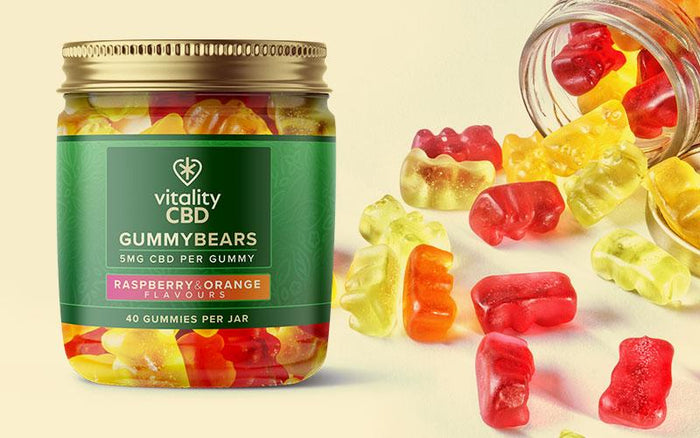 CBD Gummy Bears: A Simple Guide to CBD Gummies
What are CBD gummies?
CBD gummies is a general term for gummy sweets that contain CBD. These are becoming one of the most popular ways to get into CBD. They also make a brilliant gift idea for people you know who take CBD. However, CBD gummies are more than just a gimmick, they are indeed a fantastic way to either introduce yourself to CBD or continue taking it.
Why CBD Gummy Bears?
Over the past year, gummies have become one of the more novel ways to take vitamins, supplements and CBD. Sure, everyone loves a sweet, but that's not the only reason why people are looking to gummies for their daily dose. 
Whether you're new to CBD and looking for a tasty way to start out, or a seasoned CBD user who wants a way to top up their CBD dosage, we've got four great reasons for you to give our CBD Gummy Bears a go now. 
Let's get the obvious out of the way — our CBD Gummy Bears are packed full of flavour. We've not spent so long figuring out the best way to deliver CBD for it to taste anything less than amazing. We know you're going to love them.
Our current CBD gummy bears are flavoured raspberry and orange, which we think is an amazing flavour combination. Both flavours contain the same amount of CBD - 5mg.
All of our oral oils are designed to be precise, but let's face it — when you're using a pipette it can sometimes be tricky to figure out just how many drops you've taken. That's not an issue with our CBD Gummy Bears. There is a set amount of CBD in each gummy, so you can simply count out how many you want and chew away!
They're great for on the go
Sometimes it can be tricky applying a rub or even using a pipette on the go. Thankfully CBD Gummy Bears are perfect for that job. Just pop the tub in your bag or rucksack and you're ready to go, whether you're in the office or out shopping in town. The best part? They're really discreet too!
They really are delicious
This might be cheating, but we really believe they're that tasty. With two incredible, juicy flavours in each tub, everyone is bound to have a favourite one. Just make sure you hoard your favourite away before they all get gobbled up by someone else. 
Learning more
If you want to discover more about how CBD works and how edibles work, why not check out our core CBD guide. It takes you through everything you need to know about CBD, from top to bottom. 
CBD Gummy Bears aren't all we do, though right now we definitely can't get enough of them. If you want to see the rest of our options, why not explore our full CBD range? We also stock sprays, drops, balms and skin creams!
If you have any questions about how best to take our gummies why not ask us a question directly? You can either send us a message on our contact page, or speak to us live via our online chat in the bottom right corner of each page. Whichever path you choose, we're here to help you start your CBD journey smoothly and easily.