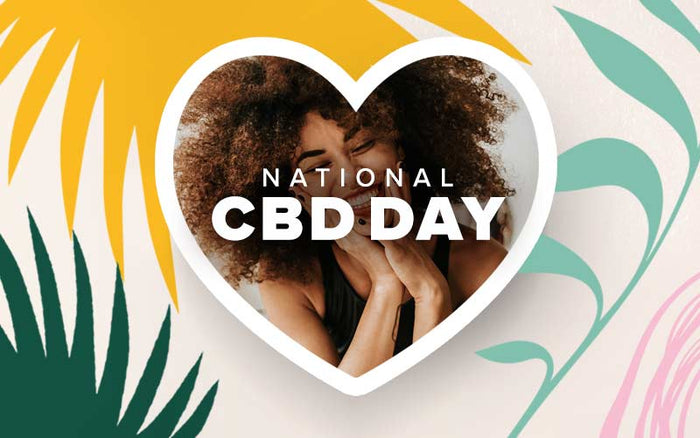 National CBD Day 2023 and the Amazing Story of CBD!
What is National CBD Day?
CBD Day is a holiday dedicated to CBD (Cannabidiol). CBD enthusiasts set aside the entire day to appreciate CBD and the many ways we can introduce it into everyday life. CBD usage has seen an impressive growth in the last few years; in the UK, studies have found that 8-11% of the population use CBD. By our own estimations we think there could be around 2 million regular CBD users in Britain.
On National CBD Day, CBD manufacturers and their many retailers will seek to raise awareness of CBD products and the range of applications CBD now has. Educating others on CBD and its potential is a great way of building confidence and greater understanding of the much-loved ingredient.
When is CBD Day?
CBD day takes place on the 8th of August every year. National CBD day began in North America in 2018. CBD products as we know them were initially most popular in the USA, but as CBD has grown more popular worldwide, so has National CBD Day!
How Should I Celebrate CBD Day?
Celebrating CBD day is easy, it's just about taking a moment to appreciate CBD and how it may have affected our lives. Many use CBD Day as an opportunity to introduce a CBD product to a loved one. People take CBD for a variety of reasons, so if you know someone who might benefit from a CBD product, National CBD day is a great opportunity to get them a CBD-inspired gift!
There are now far more than just CBD oils to choose from. You can find CBD balms, CBD cosmetics and even CBD bath products easily. Any of these categories makes a brilliant gift and is a simple way of introducing CBD to someone close to you.
What is CBD?
CBD stands for cannabidiol, a natural compound extracted from the hemp plant. We collectively know these compounds as cannabinoids. Cannabidiol is non-psychotropic, so it won't get you high, even in very high doses. This versatile ingredient can be taken in many ways, with some of the most popular ways to take CBD including CBD oils, CBD gummies and CBD balms. There are even CBD cosmetics and CBD skin creams which are becoming increasingly popular.
Why is CBD popular?
CBD can be easily integrated into the human body, which is one of the reasons it has seen even more widespread use. It is now also available in a variety of forms, which makes CBD far easier to use than most people think. CBD has been available to buy in the UK since 2016, as long as products abide by a strict set of safety regulations. Brands must not make any health claims about CBD according to MHRA guidelines, so do not trust any company that makes claims about the health benefits or therapeutic qualities of CBD.
Is CBD safe?
There have been no public health emergencies related to taking CBD. As mentioned above, CBD is not psychotropic, which means it won't get you high. The compound in hemp that causes the 'high' is called THC and is a completely different compound. CBD products bought in the UK must have less than 0.2% THC. Reputable CBD brands will allow their customers to view lab reports on their products; this allows customers to see exactly what is in the product in their hand.
CBD History
National CBD day is a fantastic opportunity to look back on the journey CBD has taken from initial cannabinoid research to being stocked in supermarkets!
While hemp has been cultivated for millennia and cannabis use has been around since at least 2737 BC, CBD is only a relatively recent phenomena. Though CBD has only been around a short time, interest and use in the molecule has grown exponentially.
Research into cannabinoids began in the early 19th century. While researching cannabinol (CBN), Robert S. Cahn made clear the structure of CBD, paving the way for further research and the eventual synthesis of cannabinoids. Shortly after in 1940, CBD made its first appearance; American chemist Roger Adams successfully isolated CBN and the star of the show: CBD!
In 1942, Roger Adams and his colleagues then managed to isolate THC, the compound responsible for the psychotropic effects of recreational cannabis use. This began to illustrate the difference between the two compounds, making it clear that CBD and THC are completely separate molecules.
The next big step for CBD occurred almost 20 years later when Israeli scientist Raphael Mechoulam synthesized CBD and THC in his lab. Thanks to his research, the 3D structure of CBD was determined which illuminated even more info on the molecule. Just 1 year later, in 1964, Mechoulam concluded that THC was the psychotropic compound in cannabis and that CBD was not!
Research into CBD and hemp continued for the rest of the 20th century. In the early 1990s, the ECS or endocannabinoid system was discovered. This was critical in revealing that the human body already created compounds very similar to the cannabinoids found in hemp. With the amount of reliable research revealing more about CBD, the use of it grew more and more into the 21st century.
Since it became possible to sell CBD as a food product in the UK from 2016, CBD became one the fastest growing products in the UK. A 2019 study found that a massive 1.3 million people in Britain were using CBD regularly. Trusted retailers followed suit and large shops like Tesco, Boots, LloydsPharmacy began to stock CBD for their customers.
As of 2021, the UK's CBD companies began to submit dossiers for FSA approval. This aims to remove any regulatory uncertainty and make buying CBD as safe and reliable as possible for customers.
The future certainly looks bright for CBD and hemp derived products in general. Recently the BBC reported that major tobacco companies are now viewing hemp as part of the future for their industry. As the public embraces cannabidiol further, we are sure to see even more exciting developments in the industry!