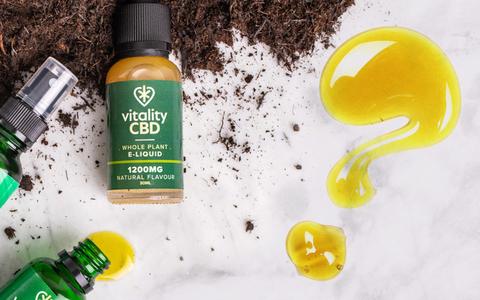 Three of the most common CBD questions
CBD has gone from strength-to-strength in recent years, and it's fast becoming present everywhere. A recent study found that there are 1.3 million active users in the UK, with a further 6 million saying they'd tried it at least once in the past year. Since it's such a rapidly expanding market, inevitably there are lots of questions surrounding the sector.
As one of the UK's CBD market leaders, we've had hundreds of users asking us a massive number of different questions. That's why we've decided to compile some of our most frequently asked questions into one easy-to-digest piece. If you've got any of your own queries, why not reach out to us at our contact page. 
There are three questions we get asked more often than any other, but the answers are so short that it'd feel like cheating. Since we're feeling generous, we'll include those at the top as a bonus. 
Is CBD legal in the UK? 
Yes, so long as the THC content is below 0.2%.
Will CBD get me high?
CBD won't get you high, and it has no psychotropic qualities. 
Is CBD safe? 
According to all current studies, yes; CBD has a good safety profile.
Due to MHRA regulation surrounding selling CBD in the UK, we can't comment on anything relating to CBD as a medication, but we can discuss everything else relating to CBD and its use. Over the course of this blog we'll take you through three common questions...
Should I Take Pure CBD or Broad Spectrum CBD?
You may have noticed when looking at buying CBD that there are lots of different terms and adjectives used to describe each product on the shelf. Decoding what each of those pieces of terminology means will help you progress from a CBD novice to a CBD expert. 
Pure CBD
As the name suggests, Pure CBD is 99.9% pure CBD with 0% THC. During the extraction process everything else in the plant matter is removed, including additional cannabinoids, terpenes, waxes and oils. 
Broad Spectrum
Products that are broad spectrum retain the additional cannabinoids, terpenes and flavonoids in full spectrum, whilst removing all traces of THC. 
So, which is best?
As is often the case, each option has its own merits. Many people take whole plant or broad spectrum CBD, however if you'd rather remove all plant matter and traces of THC, then your best option will be Pure CBD. Checking all of your options and the differing amounts of CBD is the safest course of action.
Can I use CBD with medication?
The most significant manner in which CBD needs to be considered in relation to  medication is its inhibition of the enzyme P450. Essentially, this means that certain medications aren't able to be metabolised as fast as before, so you'll need to be a little more careful with your dosages. 
If that sounds concerning, bear in mind that it's the exact same effect that grapefruit has on your enzymes. That's why certain medication will advise you to not eat grapefruit whilst taking it. In fact, you can use that as a good baseline to know whether it's advisable to take CBD with it. By inhibiting the production of P450, the most widespread effect is that certain drugs and medication will linger in the bloodstream longer. Since this is difficult to predict with any precision, it's best to check with your doctor about any potential interactions.
Even though CBD can't be discussed in relation to medicinal properties due to its current legal status, it still interacts with the human body in ways which need to be considered. The easiest answer? Go and speak to your doctor. Even if they can't prescribe CBD, they'll still be able to help you understand whether it's safe to take with your current medication.
Can I take CBD abroad?
Since the law surrounding CBD differs so much between countries, our key piece of advice would be to check what customs has to say about your travel destination here. On the Visa HQ website you can find a comprehensive breakdown of custom laws by region. Keep in mind that if you have any stopovers, you'll need to check the laws in that country as well. 
Liquid laws 
The easiest legal consideration to draw attention to with CBD is the limits surrounding liquids on flights. Most versions of commercially available CBD (whether they're e-liquids, oils or creams) would be subject to the 100ml liquid rule.
What this means is that any liquid container in your carry-on must be under 100ml in size. There is some confusion around this since medicines aren't usually limited by this when accompanied by a prescription, but if you're buying your CBD online or over-the-counter, then you will still have to abide by the 100ml rule.
The legality of THC
The main issue you'll face when flying is the presence of THC. For example, in the UK CBD oils are legal so long as the THC levels are at 0.2%, whilst in the U.S. they can reach 0.3%. This leads to a scenario where CBD oil can be legal in two countries but with different limitations.
Our main advice would be to buy Pure CBD products, which guarantees a lack of THC. Since THC is the primary psychoactive ingredient found in cannabis, that's what most countries will be looking to outlaw.
Your best solution is to always carry clear documentation outlining what's in your CBD oil. That's why we go the extra mile and provide batch results specific to the product you're holding in your hand. Just head to our batch test page, input the code on your box, and print off the test result for peace of mind. 
Flying internationally covers so many potential laws that it's difficult to make a definitive statement. Even if the country you're flying to has legalised CBD oil, customs officers might not be informed about the distinction between legal and illegal CBD oils. As ever, documentation is important. 
Domestic flights in the UK
Whilst flying internationally can be tricky, you'd think domestic flights in the UK would be much easier. It's legal here after all so what problem could there be? Again, it comes down to a matter of communication and misinformation. Your best tactic? Being informed.
Whilst any oil with under a 0.2% THC content should be legal on flights, some employees won't be aware of this. As mentioned above, you can use our batch test page to get the information you need to prove that the oil you're carrying is 100% legal in this country. 
Read up, be prepared, and even get in touch with your flight provider and customs (if you're going abroad) ahead of time. That way you can be sure that you're ahead of the curve. 
Learning more together
If there's one thing these three questions have revealed, it's that the world of CBD is always expanding. Laws across the globe are changing all the time as our understanding grows, which is why it's key we strive to learn more together.