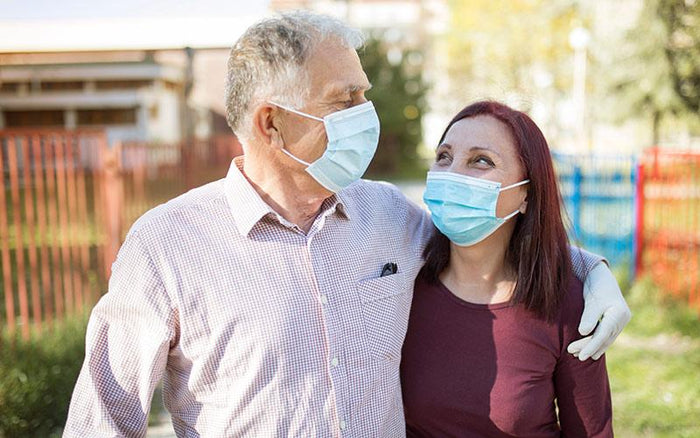 Leaving Lockdown and Returning Back to the Office with CBD
The past year has undoubtedly been a very difficult time for everyone. Whether it's been a direct battle with COVID-19, personal loss, or lockdown itself, it's important to emphasise that there is light at the end of the tunnel. Coronavirus has had a dramatic toll on communities across the entire globe, but together we can move forward into a new normal. 
Whether you want to know how best to defend yourself against the ongoing risk of coronavirus, how to deal with the mental shift of getting back to the office, or want to find out the best CBD product for you during this time, we've got the answers you need.

Mental health and the end of lockdown
At this point everyone is quite clear on best practices for handling the spread of COVID-19. What hasn't been discussed as much are the mental health ramifications of lockdowns. 
That's why we've drawn on advice from several mental health care professionals to put together five key wellbeing tips for when the lockdown starts to ease again. It's a difficult time for everyone, but particularly for those with forms of anxiety that will further amplify the fear of the uncertainty. That's why our advice is designed to be inclusive of everyone.
Take things at your own pace: This is a big one. You can go at whatever pace feels natural to you. If that means you're the first one in the pub, that's fine (be safe!), and if it means you're still getting groceries delivered to your front door, that's fine too. Never feel pressured to act a certain way. 
Support your body with supplements: One of the best ways to look after your mental health is to look after your physical health foremost. Taking key vitamin supplements derived from natural sources is a great way to support a healthy diet and exercise routine! 
Utilise your support network: For some of you, it may have been a long time since you last saw friends and family, so don't forget that they're there for you. Making sure that the people closest to you understand where you're at mentally and anything you're finding difficult about lockdown is going to be even more pivotal in the next few months. Your friends and family are close to you for a reason—reach out to them!
Figure out your work needs: With industries slowly beginning to reopen, many people who weren't key workers are now making their way back to the workplace. What's important to recognise is that doesn't mean that you're obliged to go straight back to a 9-5 Monday-Friday routine. If you want to transition slowly, speak to your line manager about working in splits. The only way you can make progress is through open dialogue.
Make time to decongest: However busy you are, take some time to yourself each day to reflect and cool off. It's these moments that are what we should really be striving for when we discuss a return to everyday life. It's a great time to take your CBD oil as well!
What is CBD?
CBD is growing ever more popular across the UK. However, for those who are unfamiliar with CBD, it's worth taking a moment to explore what it is. CBD is a naturally occurring substance we extract from the hemp plant. It's completely legal and studies suggest it has a good safety profile.
We can't and won't make any health claims around CBD. This is because it is still such a new product to the market, and a lot of exciting research is still being done. Understanding how this natural compound interacts with the body is perhaps more important. For this, it's key to know a little about the endocannabinoid system.
What is the endocannabinoid system?
Discovered in 1992, the endocannabinoid system, or ECS, is something that everybody has. The ECS has been shown to monitor certain aspects of the nervous system, immune system and several major organs.
Workplace CBD: What is the best way to take CBD in the office?
If you're looking to add CBD to your daily intake or are unsure on what the best CBD products are to integrate into office life, we have a variety of CBD products we think will be perfect.
Taking CBD in the workplace is a growing discussion for both CBD users and employers. There are many effective ways of continuing your CBD intake at work, however many CBD user's may have reservations. This guide should help with identifying how CBD can be taken at the workplace and some great products to use while there.
Can you take CBD in the office?
There is no legal reason you cannot take CBD into the office. CBD is perfectly legal in the UK and is not listed under the Misuse of Drugs act. However, if you are concerned about taking CBD at work, it's always good to ask your line manager if they are comfortable with it.
It's important to remember that our CBD products contain 0% THC, the ingredient that causes the high associated with cannabis. This means our products are not psychotropic, making them more suited for use in the office.
However, some ways of taking CBD may be banned in a workplace or office. CBD e-liquids are a perfect example of this; many workplaces in the UK do not allow e-cigarettes or vaping inside, treating it much the same way as smoking. If you plan on vaping a CBD e-liquid inside the office, it is certainly best to check with your colleagues first.
Best CBD products for the office
One of the best CBD products for the office or workplace are CBD oils. These are available in a number of variations, but perhaps the most important choice is between spray or drops. Our CBD oils are available with either a pipette dropper or a spray nozzle, which can totally change how you take the oil.
For using CBD in the office, we recommend choosing a spray nozzle for your oils. CBD oil in a spray is very quick to use, just requiring the desired number of sprays into the inside of the cheek. This can be a quicker and more discreet way of topping up on CBD. It's also useful for commuting, as less room and concentration is required to use the spray nozzle than the pipette.
What are the best CBD oils for office life?
One of the best oils available for use at home and the office is our CBD oral drops/spray; available in both 2400mg and 4800mg strengths. These higher strength CBD oils are convenient at work for a number of reasons. First of all they come with both a spray nozzle and a pipette dropper, so you can get the best of both delivery methods. Also, the higher strength means to top up your CBD intake, you'll need less sprays/drops for each dose.
The first CBD oil we recommend for the office is our fast-selling CBD Focus Drops from the Active range. Though this CBD oil was developed for use during exercise, the addition of the three ingredients: Ginkgo Biloba, Vitamin A and Guarana can help you focus during a long day at a computer. Furthermore, its tangy Lime taste is a real crowd pleaser!
Another CBD oil from the Active range that is great for us office workers is the best-selling CBD Relax Drops. Making use of the antioxidant lemon balm, our Relax drops can contribute to a good calming rest. This is ideal after a long day of commuting and working hard around the office, making sure you're ready for the next day.
Best CBD skin cream for workplaces
Regular hand washing is fantastic for stopping the spread of diseases, from coronavirus to the common cold. Most employers have thankfully made simple hand sanitisers accessible, but these alcohol-based antiseptics can easily dry out the skin on your hand.
To relieve dry skin from frequent washing, we recommend our specially formulated CBD Dry Skin Cream. A popular member of our premium Infused range, our CBD Dry Skin Cream is perfect for soothing and relieving damaged skin. Making use of Shea butter, the cream not only soothes, but also supports your skin, organically restoring its protective layer.
CBD gummy bears in the office
Last but not least, our CBD gummy bears are the ideal desk companion. Not only are these CBD gummies delicious, but each bear contains 5mg of CBD, making them a simple way to supplement your daily CBD intake. Even on the most intense work days, opening your drawer and sneaking a couple of these is bound to cheer you up!
These CBD gummy bears are also ideal for commuting. Our bears come in a handy-sized jar, which will fit perfectly in a backpack or handbag. This means there's no reason you can't have a couple on the train to or from work!
Buying CBD for the workplace
We know that every person is unique, which is why we provide a broad range of products, all of which contain our premium Colorado-sourced CBD extract. Above are only a few examples of products that would be ideal for office life, but it's worth exploring our range to see the vibrant selection of CBD products.
Indeed, far more than CBD oils or CBD edibles are available - our main range includes CBD e-liquids, CBD topicals and even CBD care kits. In addition to this, we offer both a full CBD sports range and a calming CBD cosmetics range. Whatever your lifestyle, we're sure we have the best CBD product for you!
You can also speak to one of our cannabidiol experts on our contact page. If you're here Monday-Friday 9-5pm you can even chat to someone live via our live chat option in the bottom right corner of each page! Whatever your needs, we're here for you.