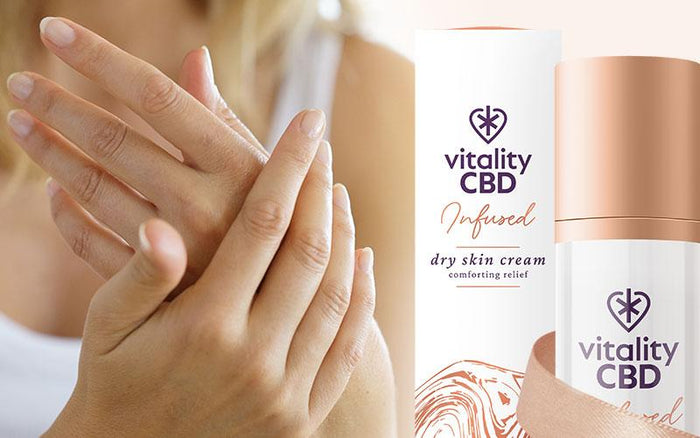 CBD's Benefits for Dry Hands and Skin
Dry hands might not match up to the potential impact of coronavirus, however it's still part of the daily issues we face. Using that much alcohol-based hand sanitiser is bound to have an impact on your skincare, and we've got the perfect solution: our CBD Dry Skin Cream. The best part? We're offering it at a discounted rate!
Why does hand sanitiser dry your hands out?
The answer to this is quite simple: washing your hands, strips away key protective oils. The more you wash, sanitise, and cleanse, the more dirt you strip away, but the more natural protectants you remove to. Not only does this leave your hands exposed, it also causes further irritation.
This irritation can lead to dry hands, and eventually severely cracked, raw, and damaged skin. Once the skin is damaged like this, further use of sanitisers and soap can lead to the skin drying out even more, making it a hard issue to resolve. The solution? Our CBD Dry Skin Cream!  
The benefits of our CBD Dry Skin Cream
At Vitality CBD we pride ourselves on being CBD experts, but our new Infused range has been built on our cosmetic expertise too. Working closely with key cosmetic specialists we've created a range that brings together the best of both worlds to make a series of well-formulated CBD cosmetics you can trust.
But what makes our CBD Dry Skin Cream so great for restoring life to damaged skin? Well, we've broken down the three main reasons:
Argan oil: A powerful antioxidant and emollient that's packed with omega fatty acids, this helps restore the oils left in overly enthusiastic washing.
Shea butter: Shea butter is well known for providing a naturally protective layer, preventing the loss of further moisture from your hands.
Ceramide complex: This powerful blend of defensive ceramides imitates the skin's own protective barrier, making it a natural way to restore balance to your skin.
Not only that, but all of our CBD cosmetics also include our three naturally-derived lead ingredients:
CBD: CBD is one of over 100 natural cannabinoids found in the hemp plant. It has a good safety profile, and it's never been easier to introduce to your skincare routine.
AnnonaSense: Winner of the GOLD Innovation Zone Best Ingredient Award at in-cosmetics Asia, and a brand new activator of the CB2-receptor, it's the perfect add-on for CBD.
Argan Stem Cells: Renowned for the effectiveness of their skin protection, Argan Stem Cells work great as a collaborator with our Argan Oil.
Learn more about CBD cosmetics
Why stop with our CBD Dry Skin Cream? We offer a full range of CBD Cosmetics for you to try, with every single product formulated with the same care and precision. We've got CBD Anti-ageing Creams, CBD Anti-blemish Creams, and much, much more for you to discover. 
Got any questions regarding our range of CBD products? You can reach out to one of our CBD experts anytime, either from the chat in the bottom right corner of each page, or on our contact page, Monday-Friday, 9-5pm. Before you buy CBD from us, make sure you're confident in your purchase.